AMD's new Radeon R9 family is launched. The most interesting R9 member, the R9 290X / 290 is planned for later. So today, the launch is focused on R9 280, R9 270 and R7 260. The first Radeon R9 products are a refresh of previous Radeon HD 7000 series. Like the Radeon HD 7970, the Radeon R9 280X (enthusiast segment) is based on a Tahiti GPU and like the Radeon HD 7870, the Radeon R9 270X (mainstream segment) is based on a Pitcairn GPU:
Radeon R9 280X –> Radeon HD 7970
Radeon R9 270X –> Radeon HD 7870
Radeon R7 260X –> Radeon HD 7770
The Radeon R9 280X features the same specs than the Radeon HD 7970GHz edition, except for the core clock that is a bit lower. The R9 280X supports the new low level Mantle API but does not support TrueAudio, the new GPU programmable 3D spatial audio engine. The R9 280X is essentially a HD 7970GHz with competitive price of USD $299.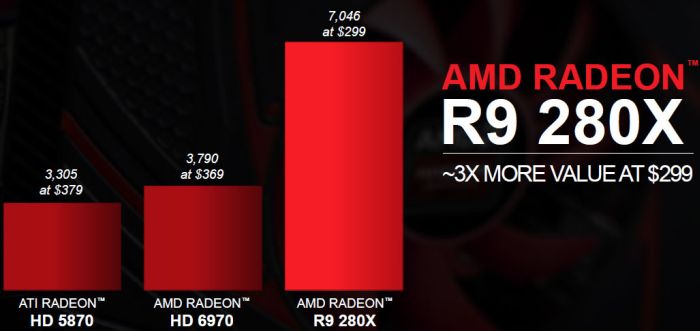 Radeon R9 280X specifications:
GPU: Tahiti @ 850MHz, GCN 1.0, TSMC 28nm, 4.31-billion transistors
Shader processors: 2048
Texture units: 128
Color ROPs: 32
Memory: 3GB GDDR5 @ 6GHz, 384-bit bus width
TDP: 250W
Power connectors: 6-pin + 8-pin
3D APIs: OpenGL 4.3 (no OpenGL 4.4? ), Direct3D 11.2, Mantle
GPU Computing: OpenCL 1.2, DirectCompute

Did you notice the release date reported by GPU-Z?
Radeon R9 280X Reviews: