GPU-Z 0.6.7 Released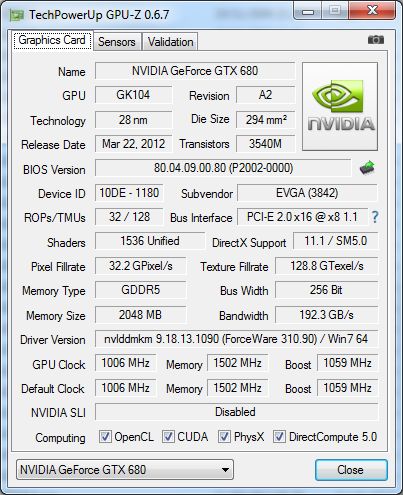 A new version of GPU-Z is available. You can download GPU-Z 0.6.7 from this page.
TechPowerUp GPU-Z 0.6.7 also brings a few UI enhancements. To begin with, GPU-Z remembers window position from its previous session, cutting you time for positioning it right for screenshots. Next up, when minimized, its tray icon does more than just show you the app is running. Its tooltip (visible when hovered), displays some important sensor data. A new "-tab" command line parameter allows proverclockers to script-launch GPU-Z showing a specific tab. Among the bugs fixed are one related to a crash occurring on CrossFire setups (a Catalyst-related bug), another crash occurring on NVIDIA setups when updating sensor data (GeForce driver-related bug), temperature reading on AMD "Llano" APUs is improved.
Changelog:
Added readout for texture mapping units (TMUs)
Window position is now restored on startup
When GPU-Z is minimized, the tray icon tooltip will show some sensor data
Added support for AMD Tahiti LE, HD 7870M, HD 8000M Series
Added support for NVIDIA GTX 670MX, GT 645M, 730M, GeForce 505, Tesla K20c, K20m, M2070-Q, M2075, Quadro 410, K600, K4000, K4000M K5000, K5000M 5010M
Fixed system hang when GPU-Z starts on CrossFire systems (Catalyst driver bug)
Fixed application crash when scanning for power sensors (NVIDIA driver bug)
Fixed memory size and GPU temperature reading on AMD Llano Fusion systems
Added command-line parameter -tab to select active tab on startup
Fixed OpenCL detection for all AMD Thames based cards (e.g. FirePro m2000)
Added version number to about dialog
Source: Geeks3D forum