Review index:
1 – GTX 660 HAWK Overview
MSI's GeForce GTX 660 HAWK is a factory-overclocked GeForce GTX 660. But it's not a simple overclocked card, it's a HAWK-ed card. The GTX 660 HAWK comes with a boosted power circuitry (a regular GTX 660 has one 6-pin power connector, the HAWK has two!), a customized PCB that includes voltage check points (GPU, memory and PLL) as well as the GPU Reactor, the Twin Frozr IV VGA cooler, triple overvoltage (GPU, memory and PLL) and triple temperature monitoring (GPU, VRM and memory).
The GTX 660 HAWK is based on a GK106 GPU (Kepler family). This GK106 packs 960 shader processors (or CUDA cores), 80 texture units and 24 ROP units. The GPU base clock is 1084MHz (reference card base clock is 980MHz) and the GPU boost clock is 1150MHz (boost clock of reference card is 1033MHz). Then compared to the reference board, the GTX 660 HAWK adds an extra +104MHz to the base clock and +117MHz to the boost clock. As you can see, this is a nice factory overclocking!
The 2GB of GDDR5 memory comes with NVIDIA's reference speed: 1502MHz real speed or 6008MHZ effective rate. The GTX 660 HAWK 2GB is priced at USD $250.
The GTX 660 HAWK supports the latest OpenGL 4.3, OpenCL 1.1 (and 1.2), CUDA and PhysX. And for Linux users, the GTX 660 HAWK is perfectly supported with latest R304.60.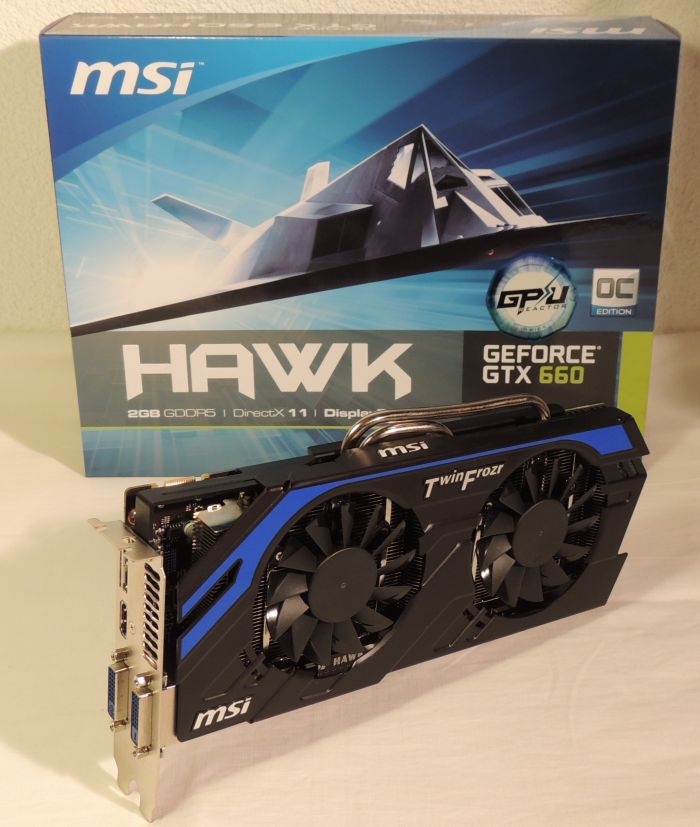 Review index: