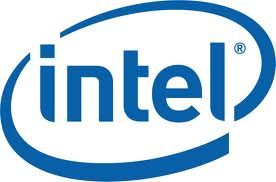 Intel has released few says ago a new beta version of the HD graphics driver for
HD Graphics 2000/3000
(Sandy Bridge) and
HD Graphics 4000/2500 GPUs
(Ivy Bridge). This driver provides full support for Windows Display Driver Model version 1.2 (
WDDM v1.2
) features including native stereoscopic 3D support, optimized screen rotation detection and integrated DirectX 11 video playback and adds several bug fixes and improvements for video encode and transcode usages.
You can download the 32 and 64-bit versions from these links:
The complete release notes are available HERE.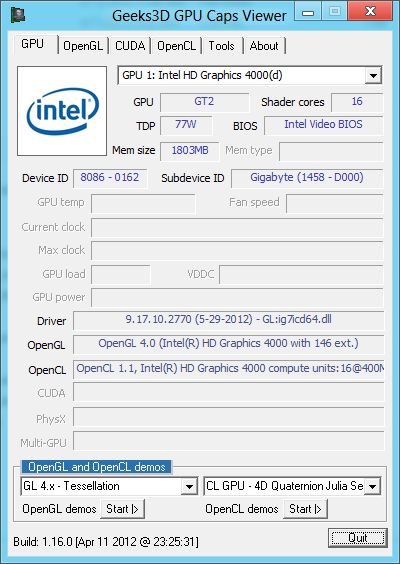 v2770 is an
OpenGL 4
driver (
GL_VERSION: 4.0.0 – Build 9.17.10.2770
) and exposes 146 OpenGL extensions (GL=130 and WGL=16). Compared to
v2729
, v2770 adds
3 new OpenGL extensions
:
GL_ARB_texture_gather
GL_ARB_transform_feedback2
GL_INTEL_map_texture
Does anyone know the purpose of GL_INTEL_map_texture?
Here is the complete list of all 146 OpenGL extensions exposed for the HD Graphics 4000 GPU:
GL_EXT_blend_minmax
GL_EXT_blend_subtract
GL_EXT_blend_color
GL_EXT_abgr
GL_EXT_texture3D
GL_EXT_clip_volume_hint
GL_EXT_compiled_vertex_array
GL_SGIS_texture_edge_clamp
GL_SGIS_generate_mipmap
GL_EXT_draw_range_elements
GL_SGIS_texture_lod
GL_EXT_rescale_normal
GL_EXT_packed_pixels
GL_EXT_texture_edge_clamp
GL_EXT_separate_specular_color
GL_ARB_multitexture
GL_EXT_texture_env_combine
GL_EXT_bgra
GL_EXT_blend_func_separate
GL_EXT_secondary_color
GL_EXT_fog_coord
GL_EXT_texture_env_add
GL_ARB_texture_cube_map
GL_ARB_transpose_matrix
GL_ARB_texture_env_add
GL_IBM_texture_mirrored_repeat
GL_EXT_multi_draw_arrays
GL_SUN_multi_draw_arrays
GL_NV_blend_square
GL_ARB_texture_compression
GL_3DFX_texture_compression_FXT1
GL_EXT_texture_filter_anisotropic
GL_ARB_texture_border_clamp
GL_ARB_point_parameters
GL_ARB_texture_env_combine
GL_ARB_texture_env_dot3
GL_ARB_texture_env_crossbar
GL_EXT_texture_compression_s3tc
GL_ARB_shadow
GL_ARB_window_pos
GL_EXT_shadow_funcs
GL_EXT_stencil_wrap
GL_ARB_vertex_program
GL_EXT_texture_rectangle
GL_ARB_fragment_program
GL_EXT_stencil_two_side
GL_ATI_separate_stencil
GL_ARB_vertex_buffer_object
GL_EXT_texture_lod_bias
GL_ARB_occlusion_query
GL_ARB_fragment_shader
GL_ARB_shader_objects
GL_ARB_shading_language_100
GL_ARB_texture_non_power_of_two
GL_ARB_vertex_shader
GL_NV_texgen_reflection
GL_ARB_point_sprite
GL_ARB_fragment_program_shadow
GL_EXT_blend_equation_separate
GL_ARB_depth_texture
GL_ARB_texture_rectangle
GL_ARB_draw_buffers
GL_ARB_color_buffer_float
GL_ARB_half_float_pixel
GL_ARB_texture_float
GL_ARB_pixel_buffer_object
GL_EXT_framebuffer_object
GL_ARB_draw_instanced
GL_ARB_half_float_vertex
GL_ARB_occlusion_query2
GL_EXT_draw_buffers2
GL_WIN_swap_hint
GL_EXT_texture_sRGB
GL_ARB_multisample
GL_EXT_packed_float
GL_EXT_texture_shared_exponent
GL_ARB_texture_rg
GL_ARB_texture_compression_rgtc
GL_NV_conditional_render
GL_EXT_texture_swizzle
GL_ARB_texture_gather
GL_ARB_sync
GL_ARB_framebuffer_sRGB
GL_EXT_packed_depth_stencil
GL_ARB_depth_buffer_float
GL_EXT_transform_feedback
GL_ARB_transform_feedback2
GL_EXT_framebuffer_blit
GL_EXT_framebuffer_multisample
GL_ARB_framebuffer_object
GL_EXT_texture_array
GL_EXT_texture_integer
GL_ARB_map_buffer_range
GL_EXT_texture_snorm
GL_ARB_blend_func_extended
GL_INTEL_performance_queries
GL_ARB_copy_buffer
GL_ARB_sampler_objects
GL_NV_primitive_restart
GL_ARB_seamless_cube_map
GL_ARB_uniform_buffer_object
GL_ARB_depth_clamp
GL_ARB_vertex_array_bgra
GL_ARB_shader_bit_encoding
GL_ARB_draw_buffers_blend
GL_ARB_geometry_shader4
GL_ARB_texture_query_lod
GL_ARB_explicit_attrib_location
GL_ARB_draw_elements_base_vertex
GL_ARB_instanced_arrays
GL_ARB_fragment_coord_conventions
GL_EXT_gpu_program_parameters
GL_ARB_texture_buffer_object_rgb32
GL_ARB_compatibility
GL_ARB_texture_rgb10_a2ui
GL_ARB_texture_multisample
GL_ARB_vertex_type_2_10_10_10_rev
GL_ARB_timer_query
GL_INTEL_map_texture
GL_ARB_tessellation_shader
GL_ARB_vertex_array_object
GL_ARB_provoking_vertex
GL_ARB_sample_shading
GL_ARB_texture_cube_map_array
GL_EXT_gpu_shader4
GL_ARB_gpu_shader5
GL_ARB_gpu_shader_fp64
GL_ARB_shader_subroutine
GL_ARB_transform_feedback3
GL_ARB_get_program_binary
WGL_EXT_depth_float
WGL_ARB_buffer_region
WGL_ARB_extensions_string
WGL_ARB_make_current_read
WGL_ARB_pixel_format
WGL_ARB_pbuffer
WGL_EXT_extensions_string
WGL_EXT_swap_control
WGL_EXT_swap_control_tear
WGL_ARB_multisample
WGL_ARB_pixel_format_float
WGL_ARB_framebuffer_sRGB
WGL_ARB_create_context
WGL_ARB_create_context_profile
WGL_EXT_pixel_format_packed_float
WGL_EXT_create_context_es2_profile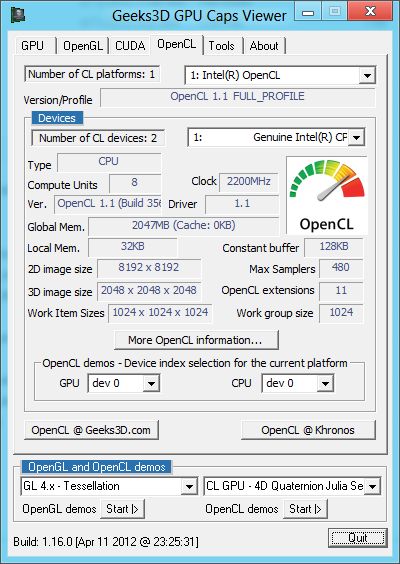 Here is the OpenCL report from GPU Caps Viewer:

- Num OpenCL platforms: 1
- CL_PLATFORM_NAME: Intel(R) OpenCL
- CL_PLATFORM_VENDOR: Intel(R) Corporation
- CL_PLATFORM_VERSION: OpenCL 1.1 
- CL_PLATFORM_PROFILE: FULL_PROFILE
- Num devices: 2

	- CL_DEVICE_NAME:                 Genuine Intel(R) CPU  @ 2.20GHz
	- CL_DEVICE_VENDOR: Intel(R) Corporation
	- CL_DRIVER_VERSION: 1.1
	- CL_DEVICE_PROFILE: FULL_PROFILE
	- CL_DEVICE_VERSION: OpenCL 1.1 (Build 35614.35644)
	- CL_DEVICE_TYPE: CPU
	- CL_DEVICE_VENDOR_ID: 0x8086
	- CL_DEVICE_MAX_COMPUTE_UNITS: 8
	- CL_DEVICE_MAX_CLOCK_FREQUENCY: 2200MHz
	- CL_DEVICE_ADDRESS_BITS: 32
	- CL_DEVICE_MAX_MEM_ALLOC_SIZE: 524256KB
	- CL_DEVICE_GLOBAL_MEM_SIZE: 2047MB
	- CL_DEVICE_MAX_PARAMETER_SIZE: 3840
	- CL_DEVICE_GLOBAL_MEM_CACHELINE_SIZE: 64 Bytes
	- CL_DEVICE_GLOBAL_MEM_CACHE_SIZE: 256KB
	- CL_DEVICE_ERROR_CORRECTION_SUPPORT: NO
	- CL_DEVICE_LOCAL_MEM_TYPE: Global
	- CL_DEVICE_LOCAL_MEM_SIZE: 32KB
	- CL_DEVICE_MAX_CONSTANT_BUFFER_SIZE: 128KB
	- CL_DEVICE_MAX_WORK_ITEM_DIMENSIONS: 3
	- CL_DEVICE_MAX_WORK_ITEM_SIZES: [1024 ; 1024 ; 1024]
	- CL_DEVICE_MAX_WORK_GROUP_SIZE: 1024
	- CL_EXEC_NATIVE_KERNEL: 4060728
	- CL_DEVICE_IMAGE_SUPPORT: YES
	- CL_DEVICE_MAX_READ_IMAGE_ARGS: 480
	- CL_DEVICE_MAX_WRITE_IMAGE_ARGS: 480
	- CL_DEVICE_IMAGE2D_MAX_WIDTH: 8192
	- CL_DEVICE_IMAGE2D_MAX_HEIGHT: 8192
	- CL_DEVICE_IMAGE3D_MAX_WIDTH: 2048
	- CL_DEVICE_IMAGE3D_MAX_HEIGHT: 2048
	- CL_DEVICE_IMAGE3D_MAX_DEPTH: 2048
	- CL_DEVICE_MAX_SAMPLERS: 480
	- CL_DEVICE_PREFERRED_VECTOR_WIDTH_CHAR: 16
	- CL_DEVICE_PREFERRED_VECTOR_WIDTH_SHORT: 8
	- CL_DEVICE_PREFERRED_VECTOR_WIDTH_INT: 4
	- CL_DEVICE_PREFERRED_VECTOR_WIDTH_LONG: 2
	- CL_DEVICE_PREFERRED_VECTOR_WIDTH_FLOAT: 4
	- CL_DEVICE_PREFERRED_VECTOR_WIDTH_DOUBLE: 2
	- CL_DEVICE_EXTENSIONS: 11
	- Extensions:
		- cl_khr_fp64
		- cl_khr_icd
		- cl_khr_global_int32_base_atomics
		- cl_khr_global_int32_extended_atomics
		- cl_khr_local_int32_base_atomics
		- cl_khr_local_int32_extended_atomics
		- cl_khr_byte_addressable_store
		- cl_intel_printf
		- cl_ext_device_fission
		- cl_intel_exec_by_local_thread
		- cl_khr_gl_sharing

	- CL_DEVICE_NAME: Intel(R) HD Graphics 4000
	- CL_DEVICE_VENDOR: Intel(R) Corporation
	- CL_DRIVER_VERSION: 9.17.10.2770
	- CL_DEVICE_PROFILE: FULL_PROFILE
	- CL_DEVICE_VERSION: OpenCL 1.1 
	- CL_DEVICE_TYPE: GPU
	- CL_DEVICE_VENDOR_ID: 0x8086
	- CL_DEVICE_MAX_COMPUTE_UNITS: 16
	- CL_DEVICE_MAX_CLOCK_FREQUENCY: 400MHz
	- CL_DEVICE_ADDRESS_BITS: 64
	- CL_DEVICE_MAX_MEM_ALLOC_SIZE: 415744KB
	- CL_DEVICE_GLOBAL_MEM_SIZE: 1624MB
	- CL_DEVICE_MAX_PARAMETER_SIZE: 1024
	- CL_DEVICE_GLOBAL_MEM_CACHELINE_SIZE: 64 Bytes
	- CL_DEVICE_GLOBAL_MEM_CACHE_SIZE: 2048KB
	- CL_DEVICE_ERROR_CORRECTION_SUPPORT: NO
	- CL_DEVICE_LOCAL_MEM_TYPE: Local (scratchpad)
	- CL_DEVICE_LOCAL_MEM_SIZE: 64KB
	- CL_DEVICE_MAX_CONSTANT_BUFFER_SIZE: 64KB
	- CL_DEVICE_MAX_WORK_ITEM_DIMENSIONS: 3
	- CL_DEVICE_MAX_WORK_ITEM_SIZES: [512 ; 512 ; 512]
	- CL_DEVICE_MAX_WORK_GROUP_SIZE: 512
	- CL_EXEC_NATIVE_KERNEL: 4060724
	- CL_DEVICE_IMAGE_SUPPORT: YES
	- CL_DEVICE_MAX_READ_IMAGE_ARGS: 128
	- CL_DEVICE_MAX_WRITE_IMAGE_ARGS: 8
	- CL_DEVICE_IMAGE2D_MAX_WIDTH: 16384
	- CL_DEVICE_IMAGE2D_MAX_HEIGHT: 16384
	- CL_DEVICE_IMAGE3D_MAX_WIDTH: 2048
	- CL_DEVICE_IMAGE3D_MAX_HEIGHT: 2048
	- CL_DEVICE_IMAGE3D_MAX_DEPTH: 2048
	- CL_DEVICE_MAX_SAMPLERS: 16
	- CL_DEVICE_PREFERRED_VECTOR_WIDTH_CHAR: 1
	- CL_DEVICE_PREFERRED_VECTOR_WIDTH_SHORT: 1
	- CL_DEVICE_PREFERRED_VECTOR_WIDTH_INT: 1
	- CL_DEVICE_PREFERRED_VECTOR_WIDTH_LONG: 1
	- CL_DEVICE_PREFERRED_VECTOR_WIDTH_FLOAT: 1
	- CL_DEVICE_PREFERRED_VECTOR_WIDTH_DOUBLE: 0
	- CL_DEVICE_EXTENSIONS: 10
	- Extensions:
		- cl_khr_icd
		- cl_khr_global_int32_base_atomics
		- cl_khr_global_int32_extended_atomics
		- cl_khr_local_int32_base_atomics
		- cl_khr_local_int32_extended_atomics
		- cl_khr_gl_sharing
		- cl_khr_d3d10_sharing
		- cl_intel_dx9_media_sharing
		- cl_khr_3d_image_writes
		- cl_khr_byte_addressable_store

Source: Geeks3D forum