A new version of MSI Kombustor is available for download. Kombustor is MSI's GPU stress test and graphics card benchmarking tool (for NVIDIA GeForce and AMD Radeon). More information about Kombustor can be found HERE.
The main new feature of Kombustor 2.3.0 is the support of the GeForce GTX 680 (clock speeds, power monitoring as well as some small changes in KMark PhysX code).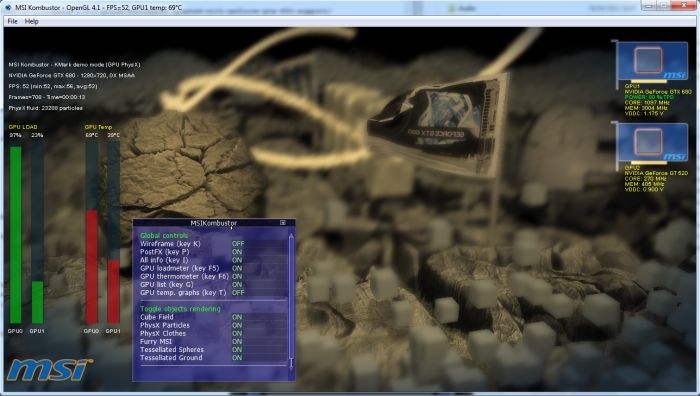 You can download Kombustor 2.3.0 here (left-click to grab the file):
[download#286#image]

You can post your feedbacks or bug reports in the following places: Afterburner forum or in the comments section of this article.
MSI Kombustor 2.3.0 changelog:
New: added GTX 680 current power consumption in the main interface.
New: support of NVIDIA GeForce GTX 680 (clock speeds, power monitoring).
New: embedded GPU Shark.
Update: PhysX code (KMark benchmark) has been updated to run with NVIDIA Kepler-based graphics cards (GTX 600 series).
Update: minor changes in the interface.
Removed the Xtreme-burn-in mode. Now there is only one mode with reasonable heavy load.
Update: compiled with ZoomGPU 1.8.2 (support of latest Radeon HD 7000 and GeForce GTX 680).
Bugfix (fixed on April 26 2012): kdata.dll loading failure under WinXP. Fixed with a recompilation (using a different compiler setting).