FurMark 1.10.0 Released With GeForce GTX 680 Support
---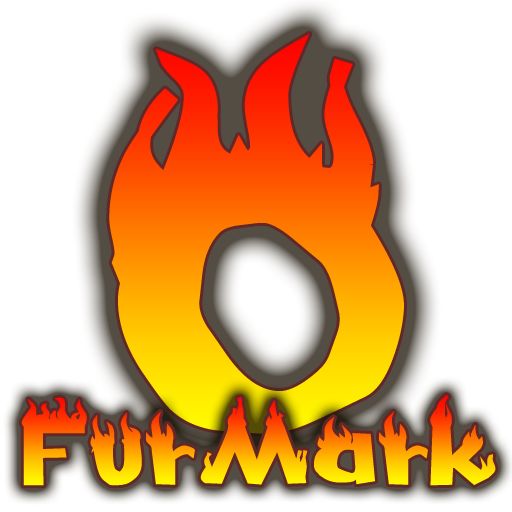 ---
Comparative tables of FurMark scores
(Preset:1080 and Preset:720) are now available
HERE
.
---
Et de quatre! Like GPU Shark, GPU Caps Viewer and EVGA OC Scanner X, FurMark has been updated with the full support of NVIDIA's GeForce GTX 680 (clock speeds and power monitoring). Alongside the GTX 680 support, true clock speeds are now displayed (useful with End-Of-Life GTX 580…) and GPU monitoring code runs now in its own system thread. GPU Shark and GPU-Z have updated to their latest versions. For more information see the changelog at the end of the post.



FurMark 1.10.0 Download

Webmasters: hotlinking is not allowed (that will cause an error message), please use the post url as download link.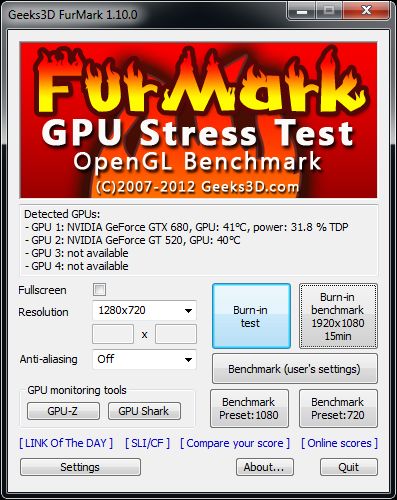 Multi-GPU: SLI and CrossFire
Both multi-GPU technologies (NVIDIA SLI or AMD CrossFire) are supported by FurMark but you have to use some little tricks to properly enable the multi-GPU support. See these articles for more details: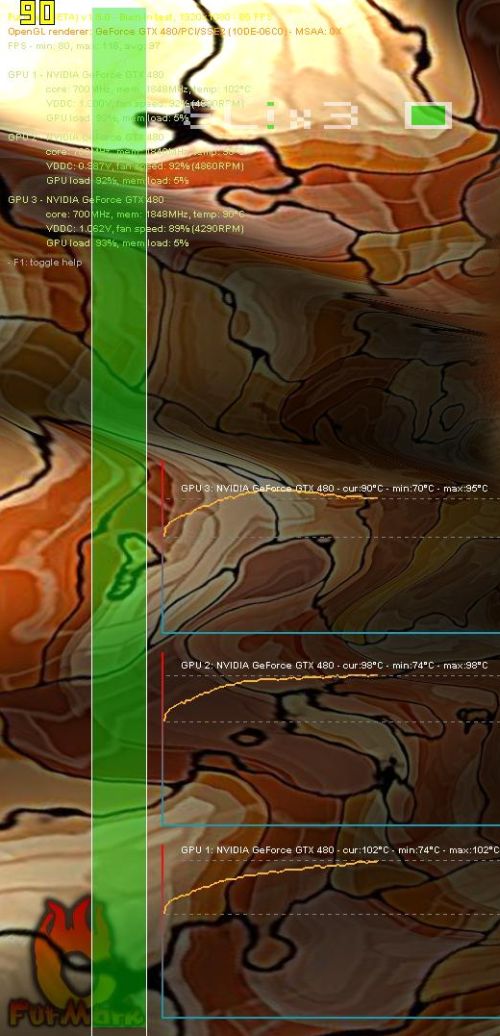 FurMark stressing three GTX 480 in SLI
FurMark 1.10.0 Changelog
New: added list of detected GPUs in the main interface.
New: stress test options are now in the settings box.
New: support of NVIDIA GeForce GTX 680 (clock speeds and power monitoring).
New: support of latest AMD Radeon (HD 7900, HD 7800 and HD 7700) cards.
New: added resolutions 4096×1152 and 6144×1152 for 2048×1152 monitors.
New: display of the true clock of the GPU when available (NVIDIA only).
Update: GPU monitoring moved in a separate system thread.
Update: GPU data monitoring report updated (Log GPU data in Settings box).
Update: minor changes in the way GPU monitoring information is displayed.
Update: ZoomGPU 1.8.2 (GPU monitoring library).
Update: GPU-Z 0.6.0 and GPU Shark 0.6.1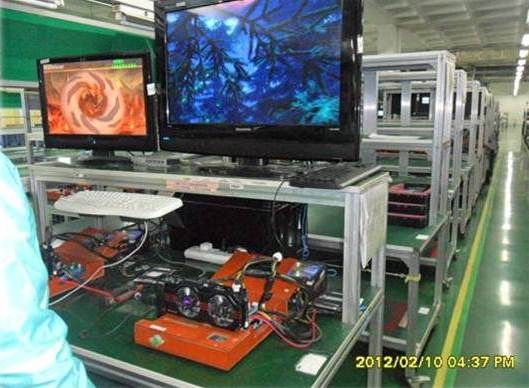 FurMark at ASUS's lab