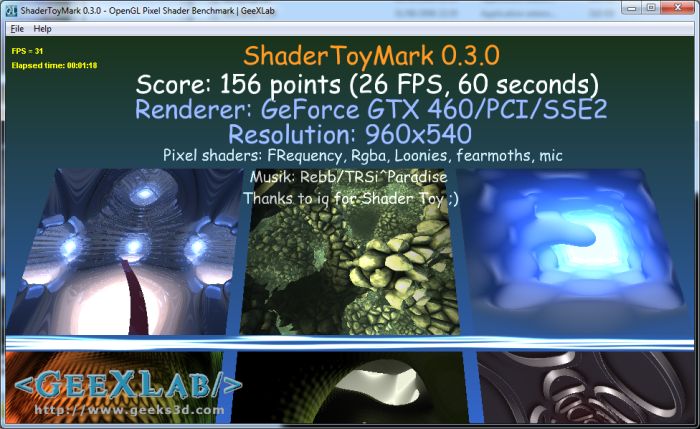 1 – ShaderToyMark 0.3.0 Overview
The third update of ShaderToyMark, the coolest pixel shader benchmark, is out. ShaderToyMark 0.3.0 does not include new features but comes with some bugfixes thanks to the latest iteration of GeeXLab.
ShaderToyMark is an OpenGL benchmark based on hefty pixel shaders. These pixel shaders (all credits are available HERE) have been written by demomakers and are available on iq's WebGL app: Shader Toy. ShaderToyMark is an application built with the GeeXlab demotool.
ShaderToyMark is perfect to rank the raw processing power of modern GPUs. Check out the scores page to have an overview of the scores.
SLI and CrossFire multi-gpu technologies are supported. Just use the tricks detailed HERE.
2 – ShaderToyMark 0.3.0 Download

(zip file, no installation required):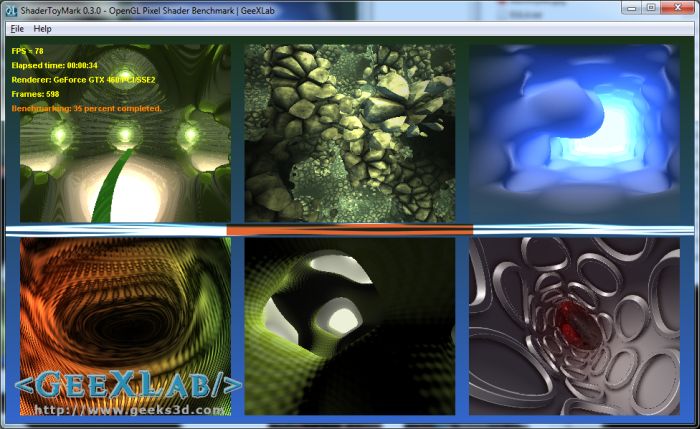 ---
Update (2011.12.16):
ShaderToyMark 0.3.0 running on Intel HD Graphics. The pixel shader that causes the problem (iq's Leizex) requires the support of GL_EXT_gpu_shader4 and that might explain the bug on Intel's GPU…