MSI Kombustor 2.2.2 Released, Xmas Competition Edition!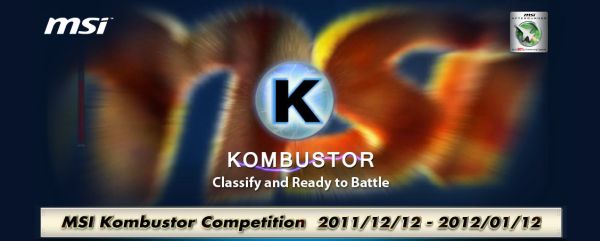 A new update of Kombustor, MSI's GPU stress test and graphics card benchmarking tool (for NVIDIA GeForce and AMD Radeon), is available.





You can download Kombustor 2.2.2 here (left-click to grab the file):



You can post your feedbacks or bug reports in the following places: Afterburner forum, oZone3D.Net GPU tools forum or in the comments section of this article.


Main new changes in Kombustor 2.2.2 are related to MSI Kombustor Competition (from December 12, 2011 to December 31, 2011). MSI Kombustor Competition is based on the KMark benchmark and then the changes are essentially focused on KMark. KMark is an OpenGL 4 and PhysX benchmark (more details about KMark HERE). The competition is limited to OpenGL 4 / DX11 capable graphics cards: NVIDIA GeForce 400 / 500 series and AMD Radeon HD 5000 / 6000 series.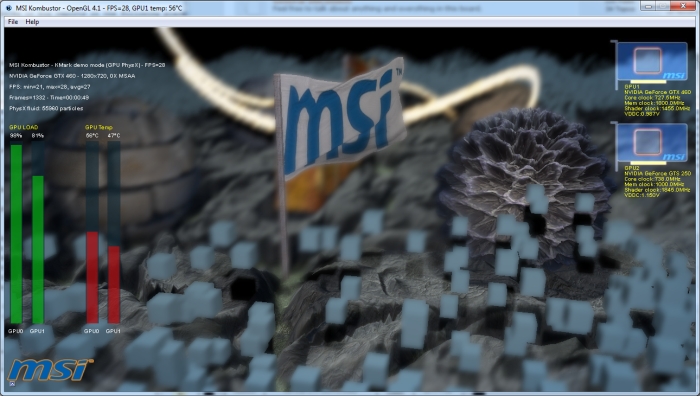 MSI Kombustor, KMark OpenGL 4 and PhysX benchmark



First thing, users have to create a login to submit a score for the competition. The link to create an account is only available in Kombustor (Create account in Kmark panel and and score dialog box). But of course, people can simply submit like in previous versions: it's the anonymous mode (or half-anonymous mode if the user enter a nickname). But in order to participate to the Kombustor competition and have the score displayed on MSI Kombustor competition homepage, users must submit with a login.



Score box detail


The second change is the addition of two new settings in the KMark benchmark: X-score and P-score:
P-score: performance mode, 1280×720 fullscreen, with reasonable graphics and PhysX workload.
X-score: extreme mode, 1920×1080 fullscreen, with more graphics and PhysX workload.





KMark panel

The main difference between both new settings and old Preset:1080 and Preset:720 is the PhysX simulation. In X-score and P-score settings, the PhysX simulation is performed in the same thread than the 3D rendering. That leads to a simpler score: FPS and SPS are no longer necessary because both values are nw the same. Only FPS value remains. I received some feedbacks about oddly high SPS values that I could'nt explain, that's why X-score and P-score are more reliable for the competition. And like in FluidMark 1.4.0, I added the PhysX built-in multicore support that allows to use multicore CPUs in PhysX CPU mode. What's more these new settings allows to see in a clear way the impact of a second graphics card for PhysX. Compare both following scores:

MSI Kombustor Competition includes two contests: the Warm Up and the Precision Challenge. For the Warm Up, just submit a X-score or a P-score, that's all. Every week, MSI will select some users (don't ask me how, I don't know) for receiving the prizes.

The Precision Challenge is more interesting. The goal of the Precision Challenge is to reach a target score. Like for the Warm Up, just submit a X-score or a P-score (actually when you submit a score, you participate to both competitions). The first competitors reaching the target scores win the prizes. To reach the target score, you must use MSI Afterburner to overclock or underclock your graphics card. In a word, you have to master your hardware to reach the score.

More information about the competition rules is available HERE.



MSI Kombustor 2.2.2 changelog:

Final non-beta release.
Update: compiled with latest ZoomGPU 1.6.1 (support of GeForce GTX 560 Ti 448 cores).
New: added score submission with account.
New: added a new settings in KMark benchmark for the Dec 2011 competition. In this setting, PhysX and 3D are in the same thread and built-in multicore PhysX is enabled.
Changed: in KMark benchmark, PhysX CPU checkbox changed in PhysX GPU checkbox.


Tweet