NVIDIA has published the third iteration (first is R280.28) of its OpenGL 4.2 driver for developers. This OpenGL 4.2 driver is intended for GeForce GTX 400 / GTX 500 series as well as for Quadro (Quadro Plex 7000, Quadro 6000, Quadro 5000, Quadro 4000, Quadro 2000, Quadro 600).
You can download R280.42 from these links:
R280.47 exposes the same number of OpenGL extensions than R280.28: 289 extensions (complete list is available here) and is based on a new branch: r280_19-31 whereas R280.28 is based on r280_19-2. More information about NV GL4 drivers here.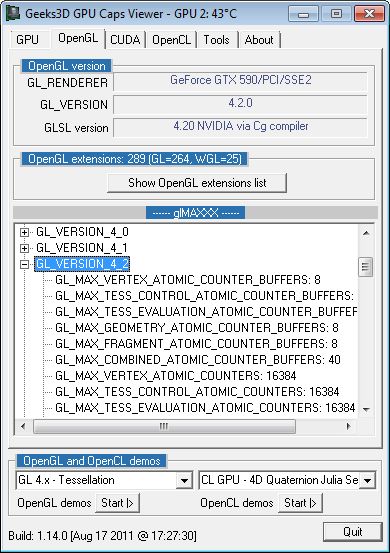 Here are the OpenGL capabilities (for the GTX 590) listed by glMAXXX (currently 285 are fetched), from GPU Caps Viewer 1.14.0:
GL_MAX_LIST_NESTING: 64
GL_MAX_EVAL_ORDER: 8
GL_MAX_LIGHTS: 8
GL_MAX_CLIP_PLANES: 8
GL_MAX_TEXTURE_SIZE: 16384
GL_MAX_PIXEL_MAP_TABLE: 65536
GL_MAX_ATTRIB_STACK_DEPTH: 16
GL_MAX_MODELVIEW_STACK_DEPTH: 32
GL_MAX_NAME_STACK_DEPTH: 128
GL_MAX_PROJECTION_STACK_DEPTH: 4
GL_MAX_TEXTURE_STACK_DEPTH: 10
GL_MAX_VIEWPORT_DIMS: 16384
GL_MAX_CLIENT_ATTRIB_STACK_DEPTH: 16
GL_MAX_3D_TEXTURE_SIZE: 2048
GL_MAX_ELEMENTS_VERTICES: 1048576
GL_MAX_ELEMENTS_INDICES: 1048576
GL_MAX_TEXTURE_UNITS: 4
GL_MAX_CUBE_MAP_TEXTURE_SIZE: 16384
GL_MAX_TEXTURE_LOD_BIAS: 15
GL_MAX_DRAW_BUFFERS: 8
GL_MAX_VERTEX_ATTRIBS: 16
GL_MAX_TEXTURE_COORDS: 8
GL_MAX_TEXTURE_IMAGE_UNITS: 32
GL_MAX_FRAGMENT_UNIFORM_COMPONENTS: 2048
GL_MAX_VERTEX_UNIFORM_COMPONENTS: 4096
GL_MAX_VARYING_FLOATS: 60
GL_MAX_VERTEX_TEXTURE_IMAGE_UNITS: 32
GL_MAX_COMBINED_TEXTURE_IMAGE_UNITS: 160
GL_MAX_TEXTURE_COORDS: 8
GL_MAX_CLIP_DISTANCES: 8
GL_MAX_ARRAY_TEXTURE_LAYERS: 2048
GL_MAX_VARYING_COMPONENTS: 60
GL_MIN_PROGRAM_TEXEL_OFFSET: -8
GL_MAX_PROGRAM_TEXEL_OFFSET: 7
GL_MAX_TRANSFORM_FEEDBACK_SEPARATE_COMPONENTS: 4
GL_MAX_TRANSFORM_FEEDBACK_INTERLEAVED_COMPONENTS: 128
GL_MAX_TRANSFORM_FEEDBACK_SEPARATE_ATTRIBS: 4
GL_MAX_RENDERBUFFER_SIZE: 16384
GL_MAX_COLOR_ATTACHMENTS: 8
GL_MAX_SAMPLES: 32
GL_MAX_RECTANGLE_TEXTURE_SIZE: 16384
GL_MAX_TEXTURE_BUFFER_SIZE: 134217728
GL_MAX_VERTEX_UNIFORM_BLOCKS: 12
GL_MAX_FRAGMENT_UNIFORM_BLOCKS: 12
GL_MAX_COMBINED_UNIFORM_BLOCKS: 60
GL_MAX_UNIFORM_BUFFER_BINDINGS: 60
GL_MAX_UNIFORM_BLOCK_SIZE: 65536
GL_MAX_COMBINED_VERTEX_UNIFORM_COMPONENTS: 200704
GL_MAX_COMBINED_FRAGMENT_UNIFORM_COMPONENTS: 198656
GL_MAX_GEOMETRY_TEXTURE_IMAGE_UNITS: 32
GL_MAX_GEOMETRY_UNIFORM_COMPONENTS: 2048
GL_MAX_GEOMETRY_OUTPUT_VERTICES: 1024
GL_MAX_GEOMETRY_TOTAL_OUTPUT_COMPONENTS: 1024
GL_MAX_VERTEX_OUTPUT_COMPONENTS: 128
GL_MAX_GEOMETRY_INPUT_COMPONENTS: 128
GL_MAX_GEOMETRY_OUTPUT_COMPONENTS: 128
GL_MAX_FRAGMENT_INPUT_COMPONENTS: 128
GL_MAX_VARYING_COMPONENTS: 60
GL_MAX_SERVER_WAIT_TIMEOUT: -1
GL_MAX_SAMPLE_MASK_WORDS: 2
GL_MAX_COLOR_TEXTURE_SAMPLES: 32
GL_MAX_DEPTH_TEXTURE_SAMPLES: 32
GL_MAX_INTEGER_SAMPLES: 1
GL_MAX_DUAL_SOURCE_DRAW_BUFFERS: 1
GL_MIN_SAMPLE_SHADING_VALUE: 0
GL_MAX_GEOMETRY_SHADER_INVOCATIONS: 32
GL_MIN_FRAGMENT_INTERPOLATION_OFFSET: -1
GL_MAX_FRAGMENT_INTERPOLATION_OFFSET: 1
GL_MIN_PROGRAM_TEXTURE_GATHER_OFFSET: -32
GL_MAX_PROGRAM_TEXTURE_GATHER_OFFSET: 31
GL_MAX_PROGRAM_TEXTURE_GATHER_COMPONENTS: 4
GL_MAX_VERTEX_STREAMS: 4
GL_MAX_SUBROUTINES: 1024
GL_MAX_SUBROUTINE_UNIFORM_LOCATIONS: 1024
GL_MAX_PATCH_VERTICES: 32
GL_MAX_TESS_GEN_LEVEL: 64
GL_MAX_TESS_CONTROL_UNIFORM_COMPONENTS: 2048
GL_MAX_TESS_EVALUATION_UNIFORM_COMPONENTS: 2048
GL_MAX_TESS_CONTROL_TEXTURE_IMAGE_UNITS: 32
GL_MAX_TESS_EVALUATION_TEXTURE_IMAGE_UNITS: 32
GL_MAX_TESS_CONTROL_OUTPUT_COMPONENTS: 128
GL_MAX_TESS_PATCH_COMPONENTS: 120
GL_MAX_TESS_CONTROL_TOTAL_OUTPUT_COMPONENTS: 4216
GL_MAX_TESS_EVALUATION_OUTPUT_COMPONENTS: 128
GL_MAX_TESS_CONTROL_UNIFORM_BLOCKS: 12
GL_MAX_TESS_EVALUATION_UNIFORM_BLOCKS: 12
GL_MAX_TESS_CONTROL_INPUT_COMPONENTS: 128
GL_MAX_TESS_EVALUATION_INPUT_COMPONENTS: 128
GL_MAX_COMBINED_TESS_CONTROL_UNIFORM_COMPONENTS: 198656
GL_MAX_COMBINED_TESS_EVALUATION_UNIFORM_COMPONENTS: 198656
GL_MAX_TRANSFORM_FEEDBACK_BUFFERS: 4
GL_MAX_VERTEX_UNIFORM_VECTORS: 1024
GL_MAX_VARYING_VECTORS: 15
GL_MAX_FRAGMENT_UNIFORM_VECTORS: 512
GL_MAX_VIEWPORTS: 16
GL_MAX_VERTEX_ATOMIC_COUNTER_BUFFERS: 8
GL_MAX_TESS_CONTROL_ATOMIC_COUNTER_BUFFERS: 8
GL_MAX_TESS_EVALUATION_ATOMIC_COUNTER_BUFFERS: 8
GL_MAX_GEOMETRY_ATOMIC_COUNTER_BUFFERS: 8
GL_MAX_FRAGMENT_ATOMIC_COUNTER_BUFFERS: 8
GL_MAX_COMBINED_ATOMIC_COUNTER_BUFFERS: 40
GL_MAX_VERTEX_ATOMIC_COUNTERS: 16384
GL_MAX_TESS_CONTROL_ATOMIC_COUNTERS: 16384
GL_MAX_TESS_EVALUATION_ATOMIC_COUNTERS: 16384
GL_MAX_GEOMETRY_ATOMIC_COUNTERS: 16384
GL_MAX_FRAGMENT_ATOMIC_COUNTERS: 16384
GL_MAX_COMBINED_ATOMIC_COUNTERS: 81920
GL_MAX_ATOMIC_COUNTER_BUFFER_SIZE: 65536
GL_MAX_ATOMIC_COUNTER_BUFFER_BINDINGS: 8
GL_MAX_IMAGE_UNITS: 8
GL_MAX_COMBINED_IMAGE_UNITS_AND_FRAGMENT_OUTPUTS: 16
GL_MAX_IMAGE_SAMPLES: 32
GL_MAX_VERTEX_IMAGE_UNIFORMS: 8
GL_MAX_TESS_CONTROL_IMAGE_UNIFORMS: 8
GL_MAX_TESS_EVALUATION_IMAGE_UNIFORMS: 8
GL_MAX_GEOMETRY_IMAGE_UNIFORMS: 8
GL_MAX_FRAGMENT_IMAGE_UNIFORMS: 8
GL_MAX_COMBINED_IMAGE_UNIFORMS: 40
GL_MAX_TESS_CONTROL_TEXTURE_IMAGE_UNITS: 32
GL_MAX_TESS_EVALUATION_TEXTURE_IMAGE_UNITS: 32
GL_MAX_TESS_GEN_LEVEL: 64
GL_MAX_TESS_CONTROL_UNIFORM_COMPONENTS: 2048
GL_MAX_TESS_EVALUATION_UNIFORM_COMPONENTS: 2048
GL_MAX_TESS_CONTROL_INPUT_COMPONENTS: 128
GL_MAX_TESS_EVALUATION_INPUT_COMPONENTS: 128
GL_MAX_COMBINED_TESS_CONTROL_UNIFORM_COMPONENTS: 198656
GL_MAX_COMBINED_TESS_EVALUATION_UNIFORM_COMPONENTS: 198656
GL_MAX_PATCH_VERTICES: 32
GL_MAX_TESS_CONTROL_OUTPUT_COMPONENTS: 128
GL_MAX_TESS_PATCH_COMPONENTS: 120
GL_MAX_TESS_CONTROL_TOTAL_OUTPUT_COMPONENTS: 4216
GL_MAX_TESS_EVALUATION_OUTPUT_COMPONENTS: 128
GL_MAX_TESS_CONTROL_UNIFORM_BLOCKS: 12
GL_MAX_TESS_EVALUATION_UNIFORM_BLOCKS: 12
GL_NVX_GPU_MEMORY_INFO_DEDICATED_VIDMEM_NVX: 1572864
GL_NVX_GPU_MEMORY_INFO_TOTAL_AVAILABLE_MEMORY_NVX: 1572864
GL_NVX_GPU_MEMORY_INFO_CURRENT_AVAILABLE_VIDMEM_NVX: 1528872
GL_NVX_GPU_MEMORY_INFO_EVICTION_COUNT_NVX: 0
GL_NVX_GPU_MEMORY_INFO_EVICTED_MEMORY_NVX: 0
GL_MAX_TEXTURE_UNITS_ARB: 4
GL_MAX_VERTEX_TEXTURE_IMAGE_UNITS_ARB: 32
GL_MAX_TEXTURE_IMAGE_UNITS_ARB: 32
GL_MAX_CUBE_MAP_TEXTURE_SIZE_ARB: 16384
GL_NUM_COMPRESSED_TEXTURE_FORMATS: 3
GL_MAX_TEXTURE_MAX_ANISOTROPY_EXT: 16.000000
GL_MAX_VERTEX_UNIFORM_COMPONENTS: 4096
GL_MAX_VARYING_FLOATS: 60
GL_MAX_VERTEX_ATTRIBS: 16
GL_MAX_TEXTURE_IMAGE_UNITS: 32
GL_MAX_VERTEX_TEXTURE_IMAGE_UNITS: 32
GL_MAX_COMBINED_TEXTURE_IMAGE_UNITS: 160
GL_MAX_TEXTURE_COORDS: 8
GL_MAX_FRAGMENT_UNIFORM_COMPONENTS_ARB: 2048
GL_MAX_VERTEX_ATTRIBS_ARB: 16
GL_MAX_PROGRAM_MATRICES_ARB: 8
GL_MAX_PROGRAM_MATRIX_STACK_DEPTH_ARB: 1
GL_MAX_PROGRAM_MATRICES_ARB: 8
GL_MAX_PROGRAM_MATRIX_STACK_DEPTH_ARB: 1
GL_MAX_TEXTURE_COORDS_ARB: 8
GL_MAX_TEXTURE_IMAGE_UNITS_ARB: 32
GL_MAX_VERTEX_UNIFORM_COMPONENTS: 4096
GL_MAX_FRAGMENT_UNIFORM_COMPONENTS: 2048
GL_MAX_GEOMETRY_UNIFORM_COMPONENTS_EXT: 2048
GL_MAX_VARYING_FLOATS: 60
GL_MAX_VERTEX_ATTRIBS: 16
GL_MAX_DRAW_BUFFERS_ARB: 8
GL_MAX_RECTANGLE_TEXTURE_SIZE: 16384
GL_MAX_COLOR_ATTACHMENTS: 8
GL_MAX_RENDERBUFFER_SIZE: 16384
GL_MAX_SAMPLES: 32
GL_MAX_GEOMETRY_TEXTURE_IMAGE_UNITS_ARB: 32
GL_MAX_GEOMETRY_VARYING_COMPONENTS_ARB: 124
GL_MAX_VERTEX_VARYING_COMPONENTS_ARB: 60
GL_MAX_GEOMETRY_UNIFORM_COMPONENTS_ARB: 2048
GL_MAX_GEOMETRY_OUTPUT_VERTICES_ARB: 1024
GL_MAX_GEOMETRY_TOTAL_OUTPUT_COMPONENTS_ARB: 1024
GL_MAX_TEXTURE_BUFFER_SIZE_ARB: 134217728
GL_MAX_VERTEX_UNIFORM_BLOCKS: 12
GL_MAX_GEOMETRY_UNIFORM_BLOCKS: 12
GL_MAX_FRAGMENT_UNIFORM_BLOCKS: 12
GL_MAX_COMBINED_UNIFORM_BLOCKS: 60
GL_MAX_UNIFORM_BUFFER_BINDINGS: 60
GL_MAX_UNIFORM_BLOCK_SIZE: 65536
GL_MAX_COMBINED_VERTEX_UNIFORM_COMPONENTS: 200704
GL_MAX_COMBINED_GEOMETRY_UNIFORM_COMPONENTS: 198656
GL_MAX_COMBINED_FRAGMENT_UNIFORM_COMPONENTS: 198656
GL_MAX_CONVOLUTION_WIDTH: 0
GL_MAX_CONVOLUTION_HEIGHT: 0
GL_MAX_COLOR_MATRIX_STACK_DEPTH: 2
GL_MAX_SERVER_WAIT_TIMEOUT: -1
GL_MAX_SAMPLE_MASK_WORDS: 2
GL_MAX_COLOR_TEXTURE_SAMPLES: 32
GL_MAX_DEPTH_TEXTURE_SAMPLES: 32
GL_MAX_INTEGER_SAMPLES: 1
GL_POINT_SIZE_MIN_ARB: 0.000000
GL_POINT_SIZE_MAX_ARB: 63.375000
GL_MIN_SAMPLE_SHADING_VALUE: 0
GL_MIN_PROGRAM_TEXTURE_GATHER_OFFSET: -32
GL_MAX_PROGRAM_TEXTURE_GATHER_OFFSET: 31
GL_MAX_PROGRAM_TEXTURE_GATHER_COMPONENTS: 4
GL_MAX_DUAL_SOURCE_DRAW_BUFFERS: 1
GL_MAX_GEOMETRY_SHADER_INVOCATIONS: 32
GL_MIN_FRAGMENT_INTERPOLATION_OFFSET: -1
GL_MAX_FRAGMENT_INTERPOLATION_OFFSET: 1
GL_FRAGMENT_INTERPOLATION_OFFSET_BITS: 4
GL_MAX_VERTEX_STREAMS: 4
GL_MAX_SUBROUTINES: 1024
GL_MAX_SUBROUTINE_UNIFORM_LOCATIONS: 1024
GL_MAX_TRANSFORM_FEEDBACK_BUFFERS: 4
GL_MAX_VERTEX_STREAMS: 4
GL_MAX_VERTEX_UNIFORM_VECTORS: 1024
GL_MAX_VARYING_VECTORS: 15
GL_MAX_FRAGMENT_UNIFORM_VECTORS: 512
GL_MAX_VIEWPORTS: 16
GL_MAX_DEBUG_MESSAGE_LENGTH: 1024
GL_MAX_DEBUG_LOGGED_MESSAGES_ARB: 128
GL_MIN_MAP_BUFFER_ALIGNMENT: 64
GL_MAX_VERTEX_ATOMIC_COUNTER_BUFFERS: 8
GL_MAX_TESS_CONTROL_ATOMIC_COUNTER_BUFFERS: 8
GL_MAX_TESS_EVALUATION_ATOMIC_COUNTER_BUFFERS: 8
GL_MAX_GEOMETRY_ATOMIC_COUNTER_BUFFERS: 8
GL_MAX_FRAGMENT_ATOMIC_COUNTER_BUFFERS: 8
GL_MAX_COMBINED_ATOMIC_COUNTER_BUFFERS: 40
GL_MAX_VERTEX_ATOMIC_COUNTERS: 16384
GL_MAX_TESS_CONTROL_ATOMIC_COUNTERS: 16384
GL_MAX_TESS_EVALUATION_ATOMIC_COUNTERS: 16384
GL_MAX_GEOMETRY_ATOMIC_COUNTERS: 16384
GL_MAX_FRAGMENT_ATOMIC_COUNTERS: 16384
GL_MAX_COMBINED_ATOMIC_COUNTERS: 81920
GL_MAX_ATOMIC_COUNTER_BUFFER_SIZE: 65536
GL_MAX_ATOMIC_COUNTER_BUFFER_BINDINGS: 8
GL_MAX_IMAGE_UNITS: 8
GL_MAX_COMBINED_IMAGE_UNITS_AND_FRAGMENT_OUTPUTS: 16
GL_MAX_IMAGE_SAMPLES: 32
GL_MAX_VERTEX_IMAGE_UNIFORMS: 8
GL_MAX_TESS_CONTROL_IMAGE_UNIFORMS: 8
GL_MAX_TESS_EVALUATION_IMAGE_UNIFORMS: 8
GL_MAX_GEOMETRY_IMAGE_UNIFORMS: 8
GL_MAX_FRAGMENT_IMAGE_UNIFORMS: 8
GL_MAX_COMBINED_IMAGE_UNIFORMS: 40
GL_MAX_VERTEX_BINDABLE_UNIFORMS_EXT: 12
GL_MAX_FRAGMENT_BINDABLE_UNIFORMS_EXT: 12
GL_MAX_GEOMETRY_BINDABLE_UNIFORMS_EXT: 12
GL_MAX_BINDABLE_UNIFORM_SIZE_EXT: 65536
GL_MAX_GEOMETRY_TEXTURE_IMAGE_UNITS_EXT: 32
GL_MAX_GEOMETRY_OUTPUT_VERTICES_EXT: 1024
GL_MAX_ARRAY_TEXTURE_LAYERS_EXT: 2048
GL_MAX_TEXTURE_BUFFER_SIZE_EXT: 134217728
GL_MAX_SAMPLE_MASK_WORDS_NV: 2
GL_MAX_FRAGMENT_PROGRAM_LOCAL_PARAMETERS_NV: 512
GL_MAX_TEXTURE_COORDS_NV: 8
GL_MAX_TEXTURE_IMAGE_UNITS_NV: 32
GL_MAX_PROGRAM_EXEC_INSTRUCTIONS_NV: 0
GL_MAX_PROGRAM_CALL_DEPTH_NV: 0
GL_MAX_PROGRAM_IF_DEPTH_NV: 0
GL_MAX_PROGRAM_LOOP_DEPTH_NV: 0
GL_MAX_PROGRAM_LOOP_COUNT_NV: 0
GL_MAX_MULTISAMPLE_COVERAGE_MODES_NV: 9
GL_MIN_PROGRAM_TEXEL_OFFSET_NV: -8
GL_MAX_PROGRAM_TEXEL_OFFSET_NV: 7
GL_MAX_PROGRAM_ATTRIB_COMPONENTS_NV: 0
GL_MAX_PROGRAM_RESULT_COMPONENTS_NV: 0
GL_MAX_PROGRAM_GENERIC_ATTRIBS_NV: 0
GL_MAX_PROGRAM_GENERIC_RESULTS_NV: 0
GL_MAX_GEOMETRY_PROGRAM_INVOCATIONS_NV: 32
GL_MIN_FRAGMENT_INTERPOLATION_OFFSET_NV: -1
GL_MAX_FRAGMENT_INTERPOLATION_OFFSET_NV: 1
GL_FRAGMENT_PROGRAM_INTERPOLATION_OFFSET_BITS_NV: 4
GL_MIN_PROGRAM_TEXTURE_GATHER_OFFSET_NV: -32
GL_MAX_PROGRAM_TEXTURE_GATHER_OFFSET_NV: 31
GL_MAX_SHININESS_NV: 128
GL_MAX_SPOT_EXPONENT_NV: 128
GL_MAX_PROGRAM_PARAMETER_BUFFER_BINDINGS_NV: 12
GL_MAX_PROGRAM_PARAMETER_BUFFER_SIZE_NV: 16384
GL_MAX_SHADER_BUFFER_ADDRESS_NV: -1
GL_MAX_GENERAL_COMBINERS_NV: 8
GL_MAX_RECTANGLE_TEXTURE_SIZE_NV: 16384
GL_MAX_TRANSFORM_FEEDBACK_SEPARATE_COMPONENTS_NV: 4
GL_MAX_TRANSFORM_FEEDBACK_INTERLEAVED_COMPONENTS_NV: 128
GL_MAX_TRANSFORM_FEEDBACK_SEPARATE_ATTRIBS_NV: 4
GL_MAX_VERTEX_ARRAY_RANGE_ELEMENT_NV: 1048575
GL_MAX_TRACK_MATRIX_STACK_DEPTH_NV: 1
GL_MAX_TRACK_MATRICES_NV: 8
GL_MAX_PROGRAM_EXEC_INSTRUCTIONS_NV: 1
GL_MAX_PROGRAM_CALL_DEPTH_NV: 8