AMD Catalyst 11.8 WHQL Released
AMD released yesterday the WHQL certified version of Catalyst 11.8. Cat 11.8 is still an OpenGL 4.1 driver. For a preview of OpenGL 4.2 support, try this one. For the complete list of OpenGL extensions, see this post.
Catalyst 11.8 Downloads:
Other downloads can be found here.
New Features:
AMD Overdrive has been enhanced to include both CPU and GPU over-clocking controls within the AMD Vision Control Center
CPU over-clocking is only supported on AMD Black edition CPUs
Performance Highlights:
Improves performance up to 10% in Crysis 2 DirectX 11 version for both non-Anti-Aliasing, and application enabled Anti-Aliasing cases on the AMD Radeon™ HD 6000 and AMD Radeon™ HD 5000 Series
Improves performance up to 8% in Fear 3 DirectX 11 version with application enabled Anti-Aliasing on the AMD Radeon™ HD 6000 and AMD Radeon™ HD 5000 Series
Improves performance up to 30% when AMD's Morphological Anti-Aliasing (MLAA) is enabled through the Catalyst™ Control Center on the AMD Radeon™ HD 6000 and AMD Radeon™ HD 5000 Series
Improves performance up to 20% in Call of Duty Black Operations for single GPU and Multi-GPU configurations on the AMD Radeon™ HD 6000 and AMD Radeon™ HD 5000 Series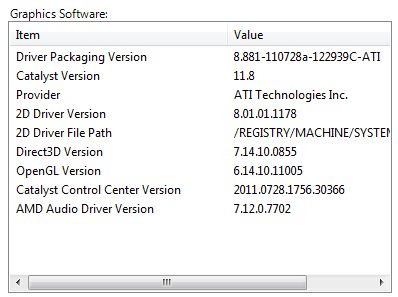 Catalyst 11.8, CCC software information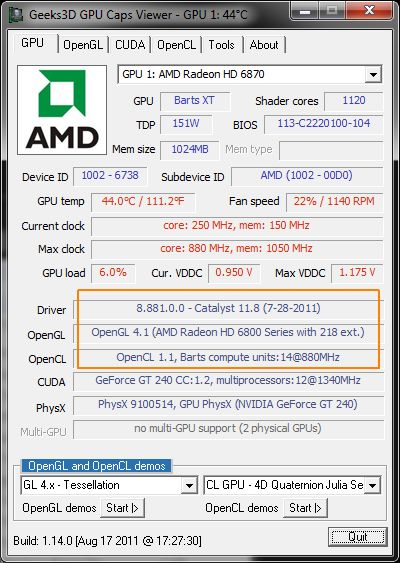 GPU Caps Viewer information