AMD Radeon HD 6450 Launched: Low Cost DX11 Graphics Card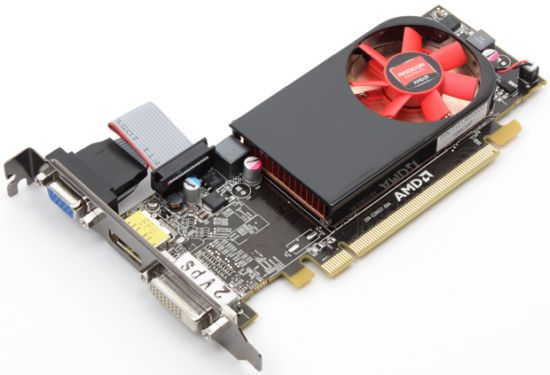 AMD has launched a new level entry card: the Radeon HD 6450. For around US $55, you have a DX11 capable card with low power consumption which makes it perfect for HTPC (home theater PC) and other media apps. You can also use it for gaming (you can run Crysis 2 at more than 20FPS) but the HD 6450 is not intended for hardcore gaming. This low form factor, low power and low performance card is available with active or passive cooling.
The Radeon HD 6450 is the refresh of the Radeon HD 5450.
Radeon HD 6450 features
GPU: Caicos @ 625-750MHz, 40nm
Shader processors: 160
Memory: 512MB (GDDR5 @ 900MHz real speed) or 1GB (DDR3 @ 800MHz real speed), 64-bit
Texture units: 8
Color ROPs: 4
Z/stencil ROPs: 16
APIs: OpenGL 4.1, Direct3D 11, OpenCL 1.1, DirectCompute
TDP: 27W (load) and 9W (idle) – no additional power connector required
Performances
Power consumption
The TDP is 27W. Under FurMark, AnandTech found a power draw of around:
(load – idle) * PSU_factor
(178-144)*0.9 = 30W

Reviews