AMD Radeon HD 6990 Launch Day: a 500W and $700 Dual-GPU Graphics Card for The Fanatic!
---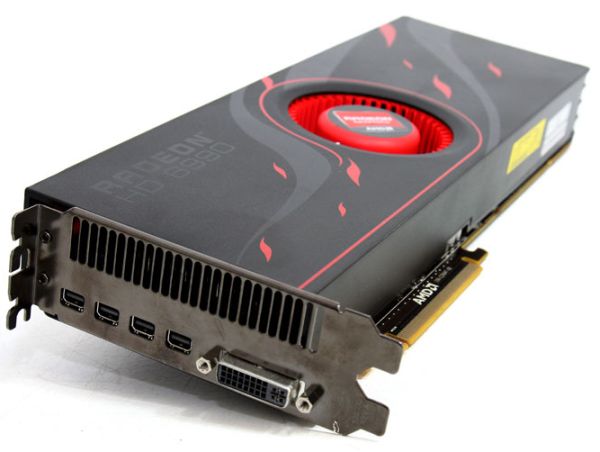 Radeon HD 6990 Overview
Ecco fatto, AMD has launched the fastest graphics card on the market: the Radeon HD 6990. This power (processing power and above all power consumption) monster is made up of two Cayman GPUs (the GPU of the HD 6970) on a single PCB. AMD's Radeon HD 6990 features dual-BIOS capabilities. This feature is controlled by the Unlocking Switch, which toggles between the factory-supported Performance BIOS of 375W (BIOS1), and an Extreme Performance BIOS (BIOS2) that can potentially unlock higher clock speeds and up to 450W of mind-blowing performance.
Radeon HD 6990 features:
GPU: Antilles (two Cayman) @ 830MHz/1120mV or 880MHz/1.175mV, 40nm
Shader processors: 3072 (2×1536), VLIW4 design
Memory: 4GB (2x2GB) GDDR5 @ 1250MHz real speed or 5000MHz effective, 2×256-bit
Texture units: 192 (2×96)
Z/Stencil ROPs: 2×64
Color ROPs: 2×32
VRM: 2×4-phase for the GPUs and 2 phases for the memory
Power connectors: two 8-pin
TDP: 375W or 450W (OC mode)
Idle power consumption: 37W
3D APIs: OpenGL 4.1 and Direct3D 11
GPU computing: OpenCL 1.1, DirectCompute 11
Price: USD $700





HD 6990 performances


3DMark11 – source

HD 6990 power consumption and temperature


HD 6990 and FurMark 1.9.0 – source

According to AnandTech tests, HD 6990 power consumption (card alone) with Crysis is aournd 335W while under FurMark, the power draw reaches 461W
(I computed the power consumption with (P_load – P_idle) * 0.9). The max GPU temperature is 88°C under Crysis anf 94°C under FurMark.


Radeon HD 6990 GPU GPU VRM – source

The HD 6990 has a dual-BIOS switch. And according to AnandTech, the nice news for overclockers is there is no PowerTune limit on position 1. Then you can reach 500W under FurMark.


Radeon HD 6990 Tests and Reviews

"You have the money and you want the best card…"