[GPU Tool] EVGA OC Scanner 1.6.0 Released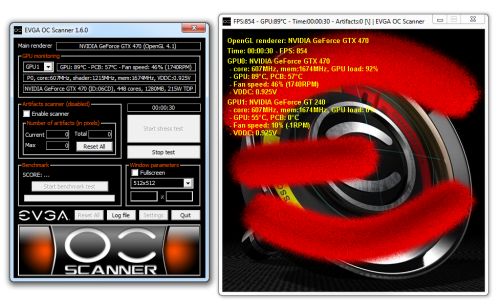 A new version of OC Scanner, EVGA's GPU stress test and artifact scanner, is available. OC Scanner 1.6.0 adds the support of GeForce GTX 560 Ti, and two new options to stop the stress test if a certain number of artifacts is dectected or if the elapsed time exceeds a max duration.
Like in EVGA Precision 2.0.2, OC Scanner has now a programmable alarm for the number of artifacts or the GPU temperature. When enabled, you will hear this alarm if artifacts or GPU temperature are out of range.
You can download EVGA Scanner from this page: OC Scanner @ EVGA.
OC Scanner 1.6.0 changelog
added support of EVGA GeForce GTX 560 Ti.
interface re-organization: many options are now localized in the Settings dialog box.
added audio alarm.
added the option to stop the stress test when number of artifact reaches a threshold.
added the option to stop the stress test when elapsed time reaches a max duration.

Tweet