Click HERE for the big picture
---
Update (2010.11.12)
This news seems to be a hot topic over the web and many websites have relayed it telling that Sapphire is rebranding HD 5550 to HD 6390. I wish to clarify this point: I never wrote that Sapphire is rebranding HD 5550. I received the pictures of a Sapphire HD 5550 detected as a HD 6390 by GPU Caps Viewer 1.9.4. That's all.
What's more, here is the official position of the Sapphire Russian team:
It is standard practice in the industry to have special products that vary from the products on offer in retail for system integration to meet those needs. But Sapphire has not sold any product into the Russian market for the current generation products (i.e. any 5K series rebranded to 6K series). Sapphire take their quality and the care of their products and very seriously. Our own investigation shows that there are no Sapphire products in current K-Systems computers, neither rebranded nor regular. Russian AMD representative and K-System
representative confirmed this.
This is a nice example of news distortion (and domino effect…).
---
I just received the proof in images: a Radeon HD 5550 (here a Sapphire's model) is detected as a Radeon HD 6390 in GPU Caps Viewer 1.9.4. Why because the HD 6390 uses the same device id than the HD 5550 (320 scalar processors) and for GPU Caps Viewer 1.8.2 the device id 0x68da is a HD 5550. Not a big story but it always fun to see rebranding in action.
Detailed pictures are available HERE.
FudZilla has à detailed story about this topic: Repackaging old cards and Nvidia's ideas:
Russian PC maker K-Systems will offer three rehashed HD 5000 cards in its systems starting November. The cards are apparently branded HD 6250, HD 6390 and HD 6510. At this point we don't know which HD 5000 series cards they are based on, but we're probably looking at Cedar and Redwood cores.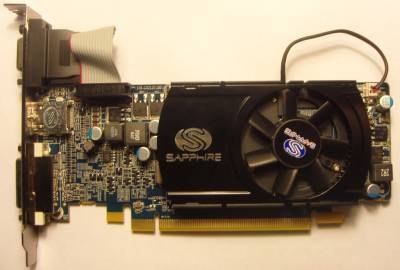 Radeon HD 5550 1GB DDR3
Other rebranding stories: