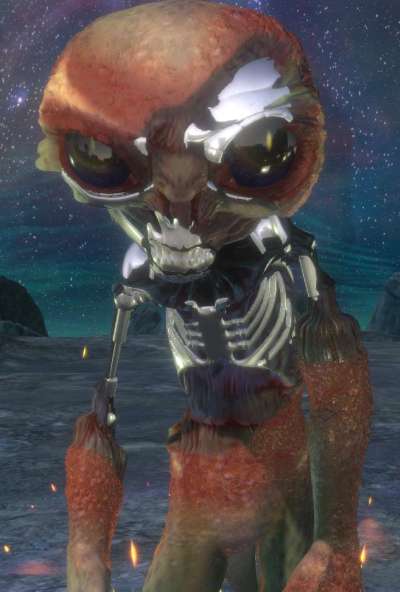 Alien vs Triangles (AvT) is out now! AvT is a Direct3D 11 tessellation demo with a touch of PhysX that shows off the power of GeForce GTX 580 tessellation engine.
This GTX 580 demo worked flawlessly and smoothly (around 70FPS) on my GTX 480. It's a very cool tech-demo, nice work NV demoteam!
I posted a ton of big pictures so don't miss a second and check them out:
NVIDIA GTX 580 Alien vs Triangles Tech-Demo (30 pictures total)
NVIDIA "Alien vs. Triangles" Demo
———————————

You can turn a smooth, workaday alien into something fun and memorable . . .
possible through the miracle of triangles using a technique we call
multi-dimensional tessellation. You can inject the alien with either a
spikey infection or a fungal infection and watch him deform, as if by magic,
into something new.

For a livelier encounter try the laser weapon. It blasts holes through the
soft tissues of our test subject and proves once and for all, that aliens
really are like onions . . . lots of layers. You'll see ALL the gooey layers
of an ugly alien in amazing clarity. The wonders of multi-dimensional
tessellation never cease. The future is looking bright indeed!

Recommended System:
——————-

NVIDIA GeForce GTX 500 series GPU
2.5 GHz Dual core CPU
2 GB System memory
600 MB Hard drive space
Microsoft Windows Vista or Windows 7
You can download the demo HERE (250MB).