[Book] OpenGL SuperBible 5th Edition Review: Nothing but the Core!
---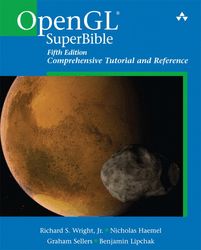 Here is a review of the fifth edition of the
OpenGL SuperBible book
.
OpenGL SuperBible in its fifth edition is almost a complete rewrite. The authors threw out the discussion of old-style, fixed-function programming and replaced it with an introduction to OpenGL that is exclusively focused on using shaders from the very beginning. All the things that got deprecated with the advent of OpenGL 3 got removed, making it a more relevant and up-to-date book than the previous editions. The OpenGL SuperBible still strives to be the 'world's best introduction to OpenGL' according to the authors. Let's see if it can keep that promise.
You can read the review HERE.
You can purchase this OpenGL bible from amazon.com.