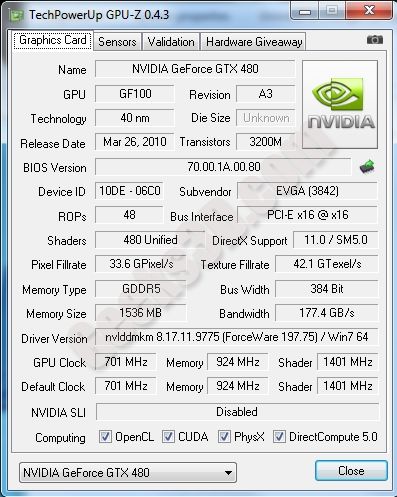 The new version of
GPU-Z
is out. This version improves the support of
GeForce GTX 480
with full voltage controller and real-time clock monitoring monitoring.
Here is a screenshot of all sensors available for a GTX 480: 😉

You can download GPU-Z 0.4.3 HERE
Complete changelog:
Added full voltage controller monitoring for GeForce GTX 480
Added real-time clock monitoring for GF100
Added detection for vendor GALAXY
Complete revamp of voltage controller architecture. Adds voltage monitoring for many ATI and NVIDIA cards and generic monitoring method for NVIDIA cards via driver.
Added support for %gt;4 GB memory on NVIDIA
Fixed memory clock reading on some HD 5670 cards
Fixed thermal sensor count on some ATI Evergreen models
Fixed incorrect default clock reading on some ATI Evergreen models
Added detection for NVIDIA GTX 465, GT 320M GT 335M, ION variant, GT 340, Tesla C2050, Tesla M2050, GTX 285M, GT 325M, Quadro FX 880M, Quadro FX 1800M
Added detection for ATI HD 5570, Mobility 4550, Mobility 5870, HD 4250, HD 4290, FirePro V7750
Added detection for Intel GMA 3150
Added fix for ADT7473 coldbug (GTX 480) via commandline parameter /fixcoldbug
Added OCP adjustment for CHL8266 (GTX 480). Use it via command line parameter /chl8266ocp without parameter to query, with numeric value seperated by space to set. This is a permanent change that will not be reverted by powering down the system.