MSI has published a new version of its overclocking suite: Afterburner 1.6.0 + Kombustor 1.0.2.
MSI Afterburner is a very useful and powerful overclocking utility based on RivaTuner technology. MSI Afterburner works with all graphics cards (NVIDIA and ATI) and is not limited to MSI's products.
Afterburner 1.6.0 brings the support of NVIDIA's GTX 400. It's interesting to notice that it's no longer possible to adjust core and shader clocks independently on GTX 400 series. Shader clock is the primary and the only controlable GPU clock for GF100 GPU architecture, the rest parts of core are clocked at half of shader clock (1/2 ratio is hardwired).
MSI Kombustor is MSI's new stress test utility based on FurMark technology (by the way, a new FurMark will be available soon).
Kombustor 1.0.2 comes with a new low graphics workload (default mode) and to get a heavier graphics workload, you have to check the Xtreme Burning Mode. Now the Xtreme mode is equivalent to the normal mode of previous versions and the Xtreme mode of previous versions is no longer available (too much power draw…). If you need a very high powe draw, the only solution is the original FurMark 😉
When you check the Xtreme Burning Mode, Kombustor now displays a warning message: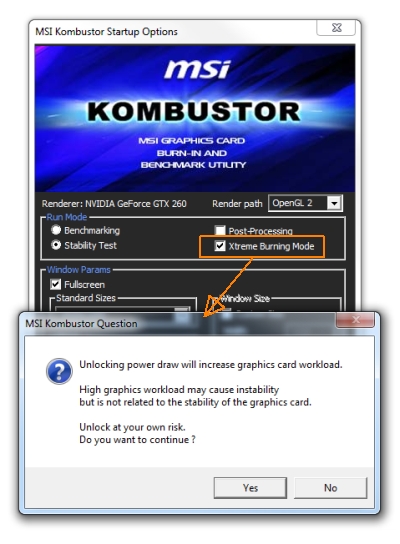 Kombustor 1.0.2 changelog:
Change: Xtreme burning mode displays a warning message (high power draw may cause instability).
Change: GPU indices inversion to match Afterburner indices.
Bugfix: in OpenGL 3 rendering, the instructions for use were wrong
Bugfix: in clocks display (core, memory and shader) for NVIDIA boards.
You can download Afterburner 1.6.0 and Kombustor 1.0.2 HERE or HERE.