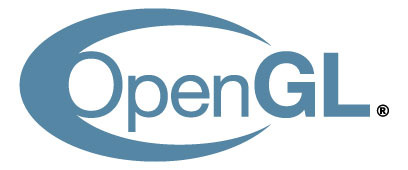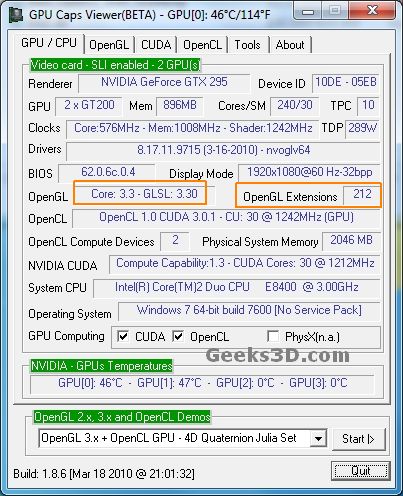 Few days after the publication of OpenGL 3.3 and 4.0 specifications, NVIDIA has just released a set of graphics drivers with OpenGL 3.3 support.
We see the new naming convention of GLSL version (from GPU Caps Viewer – the version 1.8.6 will be released shortly…):
– OpenGL Version: 3.3.0
– GLSL Version: 3.30 NVIDIA via Cg compiler
Now GLSL and OpenGL versions are the same.
Compared to R196.34, this new driver exposes 12 new OpenGL extensions:
More information about these new extensions HERE and HERE.
R197.15 exposes 15 OpenCL extensions:
– cl_khr_byte_addressable_store
– cl_khr_icd
– cl_khr_gl_sharing
– cl_nv_d3d9_sharing
– cl_nv_d3d10_sharing
– cl_nv_d3d11_sharing
– cl_nv_compiler_options
– cl_nv_device_attribute_query
– cl_nv_pragma_unroll
– cl_khr_global_int32_base_atomics
– cl_khr_global_int32_extended_atomics
– cl_khr_local_int32_base_atomics
– cl_khr_local_int32_extended_atomics
– cl_khr_fp64
All extensions with d3d are the Direct3D Interoperability or D3D Interop. See HERE for some details on interop.
ForceWare 197.15 DOWNLOADS:
NVIDIA will release OpenGL 4.0 drivers as soon as GeForce GTX 480 will be launched.
R197.15 – Full OpenGL 3.3 extensions list: 212 extensions.
GL_ARB_blend_func_extended
GL_ARB_color_buffer_float
GL_ARB_compatibility
GL_ARB_copy_buffer
GL_ARB_depth_buffer_float
GL_ARB_depth_clamp
GL_ARB_depth_texture
GL_ARB_draw_buffers
GL_ARB_draw_elements_base_vertex
GL_ARB_draw_instanced
GL_ARB_explicit_attrib_location
GL_ARB_fragment_coord_conventions
GL_ARB_fragment_program
GL_ARB_fragment_program_shadow
GL_ARB_fragment_shader
GL_ARB_framebuffer_object
GL_ARB_framebuffer_sRGB
GL_ARB_geometry_shader4
GL_ARB_half_float_pixel
GL_ARB_half_float_vertex
GL_ARB_imaging
GL_ARB_instanced_arrays
GL_ARB_map_buffer_range
GL_ARB_multisample
GL_ARB_multitexture
GL_ARB_occlusion_query
GL_ARB_occlusion_query2
GL_ARB_pixel_buffer_object
GL_ARB_point_parameters
GL_ARB_point_sprite
GL_ARB_provoking_vertex
GL_ARB_sampler_objects
GL_ARB_seamless_cube_map
GL_ARB_shader_bit_encoding
GL_ARB_shader_objects
GL_ARB_shading_language_100
GL_ARB_shadow
GL_ARB_sync
GL_ARB_texture_border_clamp
GL_ARB_texture_buffer_object
GL_ARB_texture_compression
GL_ARB_texture_compression_rgtc
GL_ARB_texture_cube_map
GL_ARB_texture_env_add
GL_ARB_texture_env_combine
GL_ARB_texture_env_crossbar
GL_ARB_texture_env_dot3
GL_ARB_texture_float
GL_ARB_texture_mirrored_repeat
GL_ARB_texture_multisample
GL_ARB_texture_non_power_of_two
GL_ARB_texture_rectangle
GL_ARB_texture_rg
GL_ARB_texture_rgb10_a2ui
GL_ARB_texture_swizzle
GL_ARB_timer_query
GL_ARB_transform_feedback2
GL_ARB_transpose_matrix
GL_ARB_uniform_buffer_object
GL_ARB_vertex_array_bgra
GL_ARB_vertex_array_object
GL_ARB_vertex_buffer_object
GL_ARB_vertex_program
GL_ARB_vertex_shader
GL_ARB_vertex_type_2_10_10_10_rev
GL_ARB_window_pos
GL_ATI_draw_buffers
GL_ATI_texture_float
GL_ATI_texture_mirror_once
GL_S3_s3tc
GL_EXT_texture_env_add
GL_EXT_abgr
GL_EXT_bgra
GL_EXT_bindable_uniform
GL_EXT_blend_color
GL_EXT_blend_equation_separate
GL_EXT_blend_func_separate
GL_EXT_blend_minmax
GL_EXT_blend_subtract
GL_EXT_compiled_vertex_array
GL_EXT_Cg_shader
GL_EXT_depth_bounds_test
GL_EXT_direct_state_access
GL_EXT_draw_buffers2
GL_EXT_draw_instanced
GL_EXT_draw_range_elements
GL_EXT_fog_coord
GL_EXT_framebuffer_blit
GL_EXT_framebuffer_multisample
GL_EXTX_framebuffer_mixed_formats
GL_EXT_framebuffer_object
GL_EXT_framebuffer_sRGB
GL_EXT_geometry_shader4
GL_EXT_gpu_program_parameters
GL_EXT_gpu_shader4
GL_EXT_multi_draw_arrays
GL_EXT_packed_depth_stencil
GL_EXT_packed_float
GL_EXT_packed_pixels
GL_EXT_pixel_buffer_object
GL_EXT_point_parameters
GL_EXT_provoking_vertex
GL_EXT_rescale_normal
GL_EXT_secondary_color
GL_EXT_separate_shader_objects
GL_EXT_separate_specular_color
GL_EXT_shadow_funcs
GL_EXT_stencil_two_side
GL_EXT_stencil_wrap
GL_EXT_texture3D
GL_EXT_texture_array
GL_EXT_texture_buffer_object
GL_EXT_texture_compression_latc
GL_EXT_texture_compression_rgtc
GL_EXT_texture_compression_s3tc
GL_EXT_texture_cube_map
GL_EXT_texture_edge_clamp
GL_EXT_texture_env_combine
GL_EXT_texture_env_dot3
GL_EXT_texture_filter_anisotropic
GL_EXT_texture_integer
GL_EXT_texture_lod
GL_EXT_texture_lod_bias
GL_EXT_texture_mirror_clamp
GL_EXT_texture_object
GL_EXT_texture_shared_exponent
GL_EXT_texture_sRGB
GL_EXT_texture_swizzle
GL_EXT_timer_query
GL_EXT_transform_feedback2
GL_EXT_vertex_array
GL_EXT_vertex_array_bgra
GL_IBM_rasterpos_clip
GL_IBM_texture_mirrored_repeat
GL_KTX_buffer_region
GL_NV_blend_square
GL_NV_conditional_render
GL_NV_copy_depth_to_color
GL_NV_copy_image
GL_NV_depth_buffer_float
GL_NV_depth_clamp
GL_NV_explicit_multisample
GL_NV_fence
GL_NV_float_buffer
GL_NV_fog_distance
GL_NV_fragment_program
GL_NV_fragment_program_option
GL_NV_fragment_program2
GL_NV_framebuffer_multisample_coverage
GL_NV_geometry_shader4
GL_NV_gpu_program4
GL_NV_half_float
GL_NV_light_max_exponent
GL_NV_multisample_coverage
GL_NV_multisample_filter_hint
GL_NV_occlusion_query
GL_NV_packed_depth_stencil
GL_NV_parameter_buffer_object
GL_NV_parameter_buffer_object2
GL_NV_pixel_data_range
GL_NV_point_sprite
GL_NV_primitive_restart
GL_NV_register_combiners
GL_NV_register_combiners2
GL_NV_shader_buffer_load
GL_NV_texgen_reflection
GL_NV_texture_barrier
GL_NV_texture_compression_vtc
GL_NV_texture_env_combine4
GL_NV_texture_expand_normal
GL_NV_texture_multisample
GL_NV_texture_rectangle
GL_NV_texture_shader
GL_NV_texture_shader2
GL_NV_texture_shader3
GL_NV_transform_feedback
GL_NV_transform_feedback2
GL_NV_vertex_array_range
GL_NV_vertex_array_range2
GL_NV_vertex_buffer_unified_memory
GL_NV_vertex_program
GL_NV_vertex_program1_1
GL_NV_vertex_program2
GL_NV_vertex_program2_option
GL_NV_vertex_program3
GL_NVX_conditional_render
GL_NVX_gpu_memory_info
GL_SGIS_generate_mipmap
GL_SGIS_texture_lod
GL_SGIX_depth_texture
GL_SGIX_shadow
GL_SUN_slice_accum
GL_WIN_swap_hint
WGL_EXT_swap_control
WGL_ARB_buffer_region
WGL_ARB_create_context
WGL_ARB_create_context_profile
WGL_ARB_extensions_string
WGL_ARB_make_current_read
WGL_ARB_multisample
WGL_ARB_pbuffer
WGL_ARB_pixel_format
WGL_ARB_pixel_format_float
WGL_ARB_render_texture
WGL_ATI_pixel_format_float
WGL_EXT_extensions_string
WGL_EXT_framebuffer_sRGB
WGL_EXT_pixel_format_packed_float
WGL_NV_float_buffer
WGL_NV_multisample_coverage
WGL_NV_render_depth_texture
WGL_NV_render_texture_rectangle
A more detailed description of each extension can be found at the following address: OpenGL Registry @ OpenGL.org