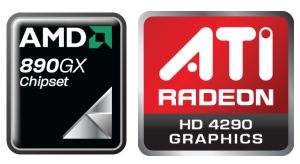 AMD's new chipset, the 890GX, includes two chips: the 890GX and the SB850. The SB850 is the southbridge (I/O management) and the 890GX is the northbridge. The 890GX includes the graphics part and the PCI-Express lines management.
The graphics part of the 890GX is made with the Radeon HD 4290 which is based on the RV620 GPU with the following features:
stream processors: 40
GPU clock: 700MHz
Memory clock: 667MHz
Memory size: 128MB (on board) + system memory
OpenGL 3.2 and Direct3D 10.1
OpenCL 1.0
Hybrid CrossFire: when a Radeon HD 5450 is present, you can enable CrossFire support: HD 4290 + H 5450…
More information about AMD 890GX chipset HERE.