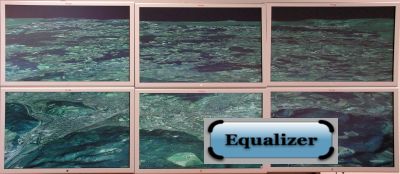 A terrain visualization software, eqSmart, on the 24 megapixel display wall at the University of Zürich (7680×3200)
Like I do for FurMark, the guys at Eyescale take their time to publish each version of their baby. So 7 months after the 0.9 version, Equalizer 0.9.1 is out!
Equalizer is a middleware that allows the creation and deployment of parallel and scalable OpenGL applications. With Equalizer you can use all available GPUs (in the local computer and all OpenGL-capable computers in the network) to perform the realtime 3D rendering. Equalizer is free and open source.
Main new features of version 0.9.1:
Subpixel compounds for full-scene anti-aliasing (FSAA) or depth-of-field (DOF) decomposition
Data distribution and data updates using reliable UDP multicast
Support for writing applications which are not using OpenGL
More information about Equalizer 0.9.1 HERE.
To grab the latest source code, just jump HERE.