FRAPS 3.1.0 Available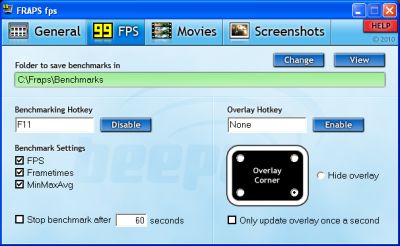 The new version of FRAPS is out. FRAPS is a widely used screenshot, video and FPS capture tool for OpenGL and Direct3D applications.
FRAPS works with all versions of Windows and this new release fixes several bugs related to Windows 7.
You can download FRAPS 3.1.0 HERE.
FRAPS 3.1.0 changelog
– Added option to capture videos with framerate locked or unlocked
– Fixed startup crash for some Intel i5/i7 configurations under Windows 7
– Minimum recording speed is now 1 fps to allow for time lapse recording
– Fixed vista desktop recording not capturing mouse cursor
– Fixed sound length for Vista/Win7 recordings
– Added large address support to 32-bit codec
– Fixed window starting off screen on some multi-monitor systems