The final version of MSI Afterburner 1.5.0 is out. MSI Afterburner is a very handy overclocking utility based on RivaTuner technology. MSI Afterburner works with all graphics cards (NVIDIA and ATI) and is not limited to MSI's products.
The branch 1.5.x of MSI Afterburner supports MSI Kombustor, MSI's new stress test utility based on FurMark technology (by the way, latest FurMark 1.8.0 can be downloaded HERE).
MSI Afterburner 1.5.0 changelog can be found on the download page or HERE.
MSI Afterburner and Kombustor have been released in the same ZIP archive. You can download both tools HERE.
Remark: the version of Kombustor included in the ZIP archive at the time of this post is wrong (0.8.0). The official version 1.0.0 will replace version 0.8.0 very soon…
Let's talk a little bit more about MSI Kombustor 1.0.0. This release fixes a small typo bug in memory usage. For NVIDIA boards, the PCB temperature is displayed (the same PCB temperature you can read in GPU-Z). And still for NVIDIA boards, clocks are displayed when even if afterburner is not launched.
Now, you can change MSI Kombustor settings with the standalone version (with the GUI – graphical user interface) and these settings will be used when the user will press the K button in MSI Afterburner interface: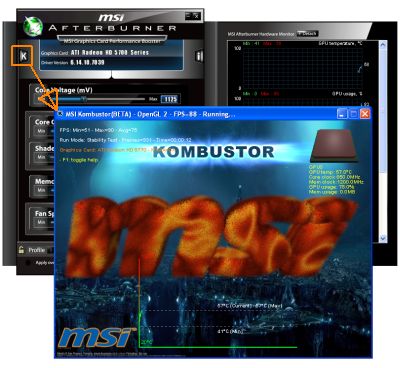 MSI Kombustor 1.0.0 changelog:
New: added clocks (core, memory and shader) readings for NVIDIA boards only when Afterburner is not running.
New: added PCB temperature for NVIDIA boards.
New: Twitter login is no longer stored in startup options file. User has to enter his login before tweetting.
New: the K button in MSI Afterburner directly launches MSI Kombustor with 3D window with settings set by the standalone version of Kombustor.
Bugfix: Memory usage in MB.
The forum support for Afterburner and Kombustor can be found HERE.