ATI Radeon HD 5570 Launch Day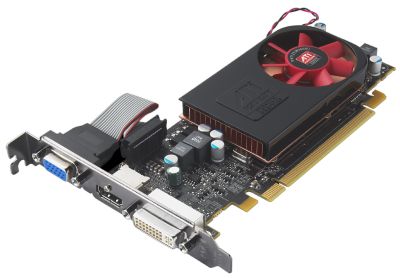 ATI's Radeon HD 5570 is a slower version of the Radeon HD 5670.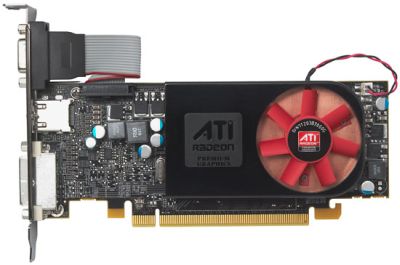 The Radeon HD 5570 is a low-profile card with an idle power consumption of 9.7W and targets NVIDIA GeForce GT 220 and GT 240. With a low power consumption this card could be nice for HTPC (Home Theater PC) but AMD's reference board is rather loud so the Radeon HD 5450 with its passive cooling is a better choice for HTPC users.
ATI Radeon HD 5570 main features:
GPU: Redwood @ 650MHz / 40nm
Stream processors: 400
Memory: 1024MB @ 900MHz (1.8GHz effective) DDR3 / 128-bit
Texture units: 20
ROPs: 8
CrossFire: bridgeless (no connector required)
Price around $90US
TDP: 42.7W (idle: 9.7W)
3D APIs: OpenGL 3.2 and Direct3D 11
GPU Computing: OpenCL 1.0 and DirecCompute 11
Noise: idle: 47 dB – load: 50 dB
Performances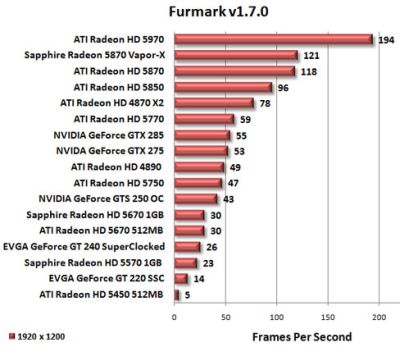 FurMark 1.7.0 OpenGL test (source)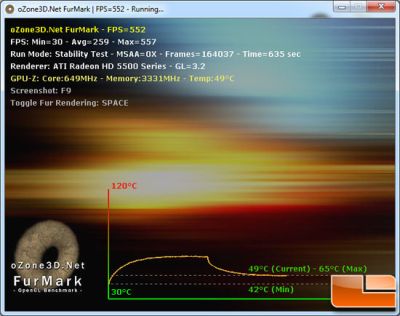 (source)
Reviews: