A new set of Catalyst graphics drivers is available. This driver is the BETA version of the upcoming Catalyst 10.1.
From this source, there are several new things in Catalyst 10.1:
CrossFire X profiles per application will now be in a separate XML file that it will be possible to update independently of the driver itself
ATI CrossFire X with PowerPlay for the Radeon 5x00s: reduced energy consumption of additional cards
AMD Dual Graphics: Possibility of combining performances of the IGP of the RS880 with the forthcoming entry level GPUs from the Cedar and Park ranges.
3D Stereoscopics: Update of the D3D driver so as to allow third party firms such as IZ3D to use their 3D solution with 120 Hz screens. Support for Bit Cauldron glasses.
Eyefinity: Bezel Management
Better GPU acceleration in Windows 7 Video Converter
Support for DisplayPort Audio (already in the 9.12 hotfix)
If laptop manufacturers allow it, possibility of installing the Catalysts on a laptop in Vista and 7
Improvement of 2D performance in Linux
Support for Ubuntu 9.10 and OpenSUSE 11.2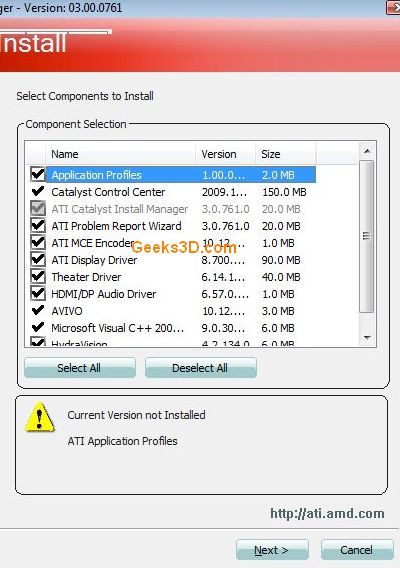 Some details from GPU Caps Viewer (version 1.8.2 is HERE):
– Drivers Version: 8.700.0.0 – Catalyst 09.12 (12-10-2009) – atiglpxx.dll
– ATI Catalyst Version String: 09.12
– ATI Catalyst Release Version String: 8.70-091210a-092787E-ATI
– OpenGL Version: 3.2.9327 Compatibility Profile Context
– OpenGL Extensions: 178 extensions
For OpenGL developers, Catalyst 10.1 beta adds 2 new extensions compared to Catalyst 9.12:
GL_AMD_shader_stencil_export: not yet documented. But in short, this extension allows a pixel shader to write values into the stencil buffer…
The OpenCL GPU driver has been updated from version CAL 1.4.515 to CAL 1.4.519.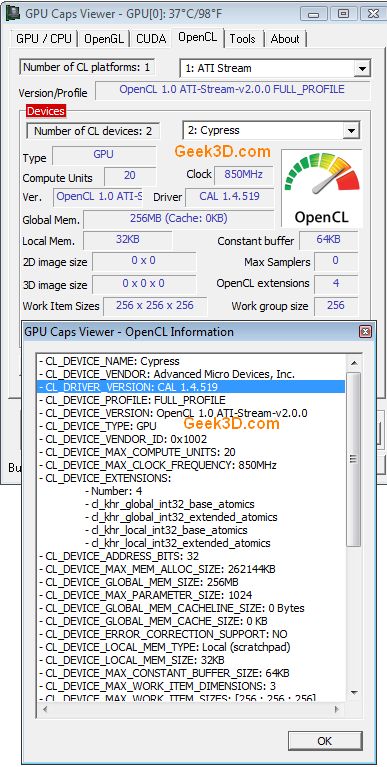 You can download Catalyst 10.1 beta via Rage3D.