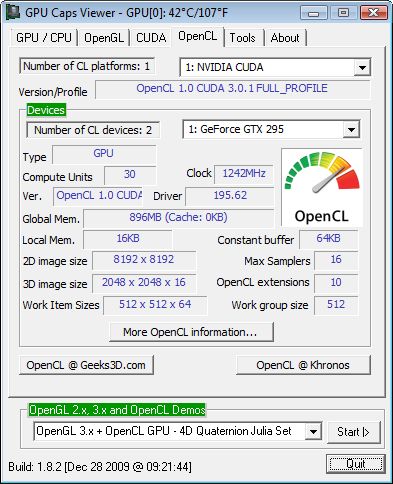 Downloads
Webmasters: hotlinking is not allowed, please use the post url as download link.


[download#118#image]
GPU Caps 1.8.2 Win32 installer
[download#119#image]
GPU Caps 1.8.2 ZIP archive

This new update of GPU Caps Viewer is essentially a bugfix release. With first OpenGL 3.0 drivers (drivers that support only OpenGL 3.0 like R186.18), the OpenGL context creation fell in an infinite loop. I also changed the way OpenCL contexts are created and now you can start an OpenCL CPU demo on a NVIDIA system using AMD's OpenCL implementation: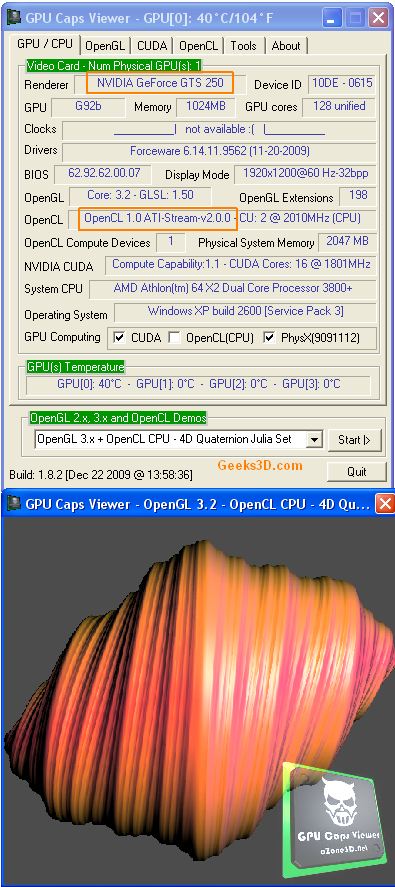 Changelog:
Bugfix: OpenGL 3 context creation with old OpenGL 3.0 drivers like forceware 186.18. The bug led to an infinite loop.
Bugfix: number of shader processors of Radeon HD 4830 in GPU database fixed.
New: if OpenCL CPU is supported, the OpenCL checkbox caption is renamed in OpenCL(CPU).
Change: improved OpenCL platforms management for the creation of OpenCL context in demos.
ZoomGPU has been updated as well as GPU Caps PRO.