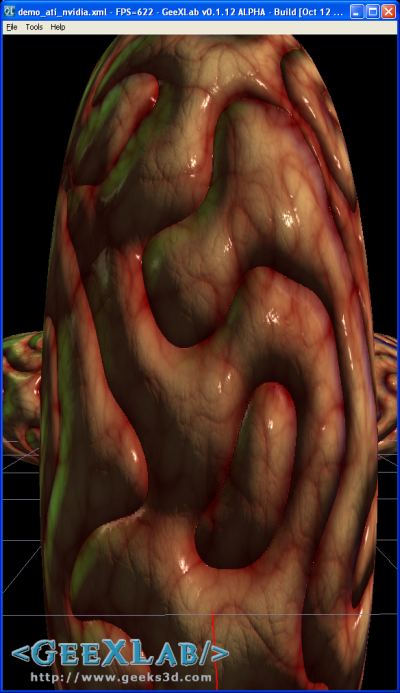 More shaders are available here:
Geeks3D Shader Library
.
This is a bump mapping shader (Phong lighting) based on this tutorial.
This shader supports several lights (up to 8).
You can download a GeeXLab demo to see the shader in real time:
[download#98#image]
Unzip the archive somewhere and launch the demo with Start_Demo_ATI_NVIDIA.bat.
Some results:
Core 2 Duo E8400 / GeForce GTS 250 (Fw191.07) / WinXP SP2: 2050FPS (800×600) and 650 FPS (1920×1200)
AMD X2 3800+ / Radeon HD 4850 (Cat9.9) / WinXP SP2: 2480FPS (800×600) and 1150 FPS (1920×1080)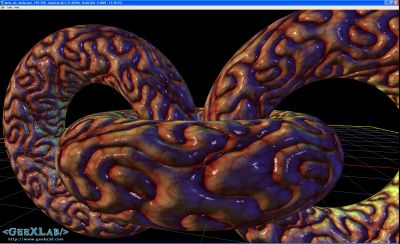 Shader desription (for NVIDIA and ATI)
Language: OpenGL 2 – GLSL
Type: Lighting
Inputs:
glTangent4f (vec4): tangent space vector per vertex. glTangent4f is a vertex attribute and is provided by GeeXLab 3D engine.
colorMap (sampler2D): color texture on texture unit 0
normalMap (sampler2D): normal texture on texture unit 1
Ouputs: color buffer
Shader code:

[Vertex_Shader]
#define MAX_LIGHTS 8
#define NUM_LIGHTS 3
varying vec3 lightVec[MAX_LIGHTS]; 
varying vec3 viewVec;
attribute vec4 glTangent4f; 
void main(void)
{
  gl_Position = ftransform();
  gl_TexCoord[0] = gl_MultiTexCoord0;
  
  vec3 n = normalize(gl_NormalMatrix * gl_Normal);
  vec3 t = normalize(gl_NormalMatrix * glTangent4f.xyz);
  vec3 b = cross(n, t);
  
  vec3 v;
  vec3 vVertex = vec3(gl_ModelViewMatrix * gl_Vertex);
  int i;
  for (i=0; i<NUM_LIGHTS; ++i)
  {
    vec3 lVec = gl_LightSource[i].position.xyz - vVertex;
    v.x = dot(lVec, t);
    v.y = dot(lVec, b);
    v.z = dot(lVec, n);
    lightVec[i] = v;
  }
  
  vec3 vVec = -vVertex;
  v.x = dot(vVec, t);
  v.y = dot(vVec, b);
  v.z = dot(vVec, n);
  viewVec = v;
}

[Pixel_Shader]
#define MAX_LIGHTS 8
#define NUM_LIGHTS 3
varying vec3 lightVec[MAX_LIGHTS]; 
varying vec3 viewVec;
uniform sampler2D colorMap;
uniform sampler2D normalMap;
void main (void)
{
  vec2 uv = gl_TexCoord[0].st * 4.0;
  vec4 base = texture2D(colorMap, uv);
  vec4 final_color = vec4(0.2, 0.2, 0.2, 1.0) * base;
  vec3 vVec = normalize(viewVec);
  vec3 bump = 
     normalize(texture2D(normalMap, uv).xyz * 2.0 - 1.0);
  vec3 R = reflect(-vVec, bump);
  int i;
  for (i=0; i<NUM_LIGHTS; ++i)
  {	
    vec3 lVec = normalize(lightVec[i]);
    float diffuse = max(dot(lVec, bump), 0.0);
    vec4 vDiffuse = 
       gl_FrontLightProduct[i].diffuse * 
       diffuse * base;	
    final_color += vDiffuse;
  
    float specular = 
      pow(clamp(dot(R, lVec), 0.0, 1.0), 
            gl_FrontMaterial.shininess);
    vec4 vSpecular = 
      gl_FrontLightProduct[i].specular * 
      specular * diffuse;	
    final_color += vSpecular;
  }
  
  gl_FragColor = final_color;	
}